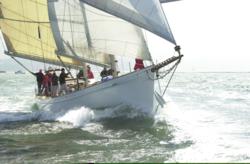 I am proud to be on board with Call of the Sea
Sausalito CA (Vocus/PRWEB) July 01, 2011
Sausalito-based Call of the Sea has announced that Charles Hart has been named Executive Director of the San Francisco Bay Area marine education organization, in addition to being Staff Commodore of the St. Francis Yacht Club in San Francisco.
Mr. Hart is excited to be starting his new role as Executive Director and to be serving on the Board of Directors at Call of the Sea. In his previous position, he was the Chairman, CEO, and co-founder of a startup organization, Vaultit, Inc. He is on the Board of Advisors of Brookside Capital of San Francisco and was named to the "Micro Times 50," a roster of the fifty most influential people in the computer industry.
Call of the Sea felt that Mr. Hart's credentials and reputation would make him a great addition to the organization, which educates and connects people with the sea around them.
"I am proud to be on board with Call of the Sea," said Mr. Hart. "We invite everyone to be inspired to connect with the sea through educational programs that focus on our nautical heritage, the ocean environment, seamanship, teamwork, and leadership."
For more information about Call of the Sea and their amazing programs, call Haley Chutz, Program Director at 415-331-3412 or check out their website at http://www.callofthesea.org. They are located at 3020 Bridgeway #278 in Sausalito, California 94965.
About Call of the Sea:
Call of the Sea is an educational non-profit organization with the mission of connecting people to the sea and maritime traditions through sailboat charter, youth programs and sailing lessons. Their teaching platform is the 82 schooner SEAWARD. Their goal is to highlight the benefits of connecting with the sea and sailing to all people, with a special focus on empowering youth. The programs range from three hours in length to two weeks long. The excursions primarily take place on San Francisco Bay, but occasionally take place as far away as Baja Mexico.
Their youth-oriented sail training programs are designed to build self-confidence, self-awareness, discipline, and the teamwork and leadership skills inherent in being part of a ship's crew. The corporation's operations are based in the San Francisco Bay region.
###