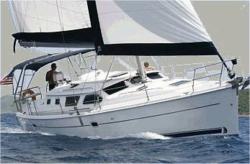 Unlike traditional sailing clubs, SailTime consists of new mid-sized cruising power and sail boats.
Annapolis, MD (PRWEB) March 30, 2012
What began as a means to an end for two Austin, Texas entrepreneurs has proven to be very popular with sailors from coast to coast and around the world. SailTime celebrated its' tenth year of operation last year and is not looking back.
Todd Hess, who is President of the company, said, "Everybody I talk with is positive about the future. The tough times seem to be behind us and our organization is seeing growth in a number of different categories. We are a good barometer for the whole industry." SailTime franchises sailing and boating centers, which operate sailing schools and membership sailing clubs.
Mr Hess continues, "Of course our number one metric is boat sales. This year we have added Gemini Catamarans to our fleets and have already sold a few into our bases." The company has also had a long standing relationship with Hunter Marine. "We like being able to buy American made boats," Mr. Hess states. Rinker power boats have also been introduced in some markets with great success.
SailTime continues to expand where sailors can find the unique opportunity to get onto their local waterways. Besides North America, locations in Europe and across the United Kingdom are operating. The most recent expansion has been to Australia, where a thriving multi-base operation is underway.
Unlike traditional sailing clubs, SailTime consists of new mid-sized cruising power and sail boats. Each boat is essentially it's own club because a finite amount of Members share all the available time via an online scheduling system. "It's just like owning a boat without any of the hassle," concludes Gordon Bennett, Annapolis, MD Base Manager.
About SailTime:
SailTime is an innovative new approach to boat access and ownership that makes it easier, quicker and more economical for aspiring captains to take the helm of a beautiful, well-equipped sail or power boat anywhere in the world.
Each SailTime base is independently owned and operated by a local entrepreneur who the SailTime Group, LLC has licensed to use our trademarks and business methods. Our "Base Owners" take pride in insuring that your experience with SailTime is one that is memorable and world class. Additionally, these proud business owners are in charge of all the boats maintenance and operational needs so you can simply enjoy your time on the water with friends and family.