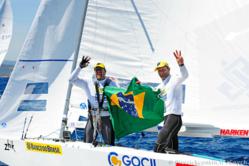 The battle does not end here. Scheidt will soon go against many top sailors to secure his 5th Olympic medal in London
Hyeres, France (PRWEB UK) 14 May 2012
The 2012 Zhik Star Worlds Championship brought 72 experience teams from around the world to race against each other for 6 races. The battle between Brazil and Britain was evident from the first days and continued until the last race. Brazil entered the race, being 5 points behind Britain and Robert Scheidt decided to turn this into match racing. Both teams finished far below their expected results, but after discarding this last race, it was Brazil that came on top, since their worst race result was 10 when Britain's was 17.
Robert Scheidt, the skipper of the Brazilian team, is an international star, having already 4 Olympic medals. Moreover, he has used the technique of "match racing" within the fleet in the 1996 Olympic Games, when he won gold over Ben Ainslie (GBR).
However, the battle does not end here. Scheidt/Prada will go against Percy/Simpson and the rest of the top Star Class athletes in a few months for the 2012 Olympics. Robert Scheidt is looking good to secure his 5th Olympic medal and he will fight for gold. The Star Class was voted out of the Olympics from the International Sailing Federation (ISAF), so this may very well be the last chance Scheidt gets to secure one more Olympic medal. His job will not be easy. His team will have to against not only the British duo of Percy/Simpson, but also many good teams such as the one from France, Germany, Poland, USA and Sweden.
Let's not forget that, apart from the fight for the medals, there was another fight taking place in this event. The last 4 countries to get a ticket for London 2012 were to be decided in this event. There were many ups and downs in this fight, too. In the end Pepper/Turner from New Zealand, Hestbaek/Olesen from Denmark, Papathanasiou/Tsotras from Greece, and the Lovrovics from Croatia managed to secure a place for their countries, just a few months before the Olympic sailing event takes place.
The 2012 Zhik Star Worlds got international media attention through daily video news releases. Icarus Sailing Media (http://icarussailingmedia.com) was managing the media production and distribution of the event, which was included in the Fleet Racing Tour (http://fleetracingtour.com), the premier Olympic Sailing Series. The event will be broadcasted around the world through top media networks such as Eurosport Asia/Pac, ESPN Star Sports, Sportklub, Nautical Channel and many more.
For more info visit the event's website, the official page of the International Star Class Yacht Association at http://www.starclass.org, like the Facebook page of the Fleet Racing Tour at http://www.facebook.com/fleetracingtour and follow its twitter page at https://twitter.com/olympicsailing.