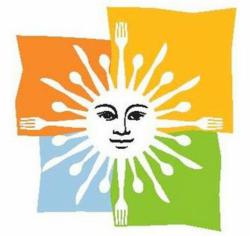 Mariam Ebrahimi, a DC-area divorce lawyer, married Brett Holland after knowing each other for over two years.
Vienna, VA (PRWEB) June 26, 2013
On May 25, Mina Ebrahimi and the team at Saint Germain Catering provided the catering services for the most important wedding in the company's history: the wedding of Mina's sister, Mariam.
Mariam Ebrahimi, a DC-area divorce lawyer, married Brett Holland after knowing each other for over two years. The pair met through the online dating service eHarmony.com. Brett, a federal contractor, was separated from his wife of 15 years at the time, and the pair began trading messages through eHarmony's match service in late 2010. By January 2011, they were spending most of their evenings messaging when Brett wasn't with his daughter, Jordan.
When the divorce proceedings got started, Mariam helped Brett through the difficult time, and guided him through the proceedings using her background in family law. Though Mariam had expressed a hesitance to marry for much of her life, she and Brett came to the conclusion of marriage in late summer of 2012. Mariam had been using the dating service since 2009.
"When we first heard about Mariam and Brett's engagement, we were elated," says Mina Ebrahimi, President of Saint Germain Catering. "We were happy to see that she found someone that she could fall in love with."
Prior to meeting Brett, Mariam had determined that she would not marry, having never had interest in marrying. Dating on eHarmony.com started off with a handful of short romances, but none which provided her with reason to pursue marriage.
"Something about Brett and Mariam just clicked," says Ebrahimi.
The reception included a wide variety of Mariam's favorite dishes, including a cold seafood bar featuring lobster and oysters on the half shell. "The wedding was beautiful, and the food was a hit," says Ebrahimi.
About Saint Germain Catering
Since 1988, Saint Germain Catering has been serving the Northern Virginia, Washington DC, and Maryland area with top-notch food for a wide variety of different events, including wedding catering, bar mitzvahs, birthday parties, business meetings, and many more. The business regularly donates to numerous causes, including support to military families and non-interventional veterinary research. Visit SaintGermainCatering.com for more information.