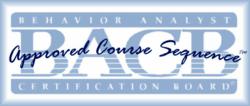 Philadelphia, PA (PRWEB) November 07, 2012
The Centers for Disease Control estimates that 1 in 88 American children have some form of autism spectrum disorder. The result is an increasing need for professionals who can support and advocate for the growing population of children and adults with the diagnosis. To help meet this need, Saint Joseph's University has introduced a new autism studies concentration as part of its online Bachelor of Science in Professional and Liberal Studies (PLS) program.
The six autism concentration courses help prepare students to become Board Certified Assistant Behavior Analysts (BCaBAs). These professionals use principles of learning, including operant and respondent learning, to address the behavioral needs of individuals—such as autistic children and adults, from pre-school age to seniors--in a variety of settings. BCaBAs work as individual clinical assistants or are employed such fields as education, behavioral medicine, mental health, disability, children's services, business and institutions of higher learning.
BCaBA certification requires an undergraduate degree, completion of approved courses related to behavior analysis, less than a year of supervised practice and passing an international exam. The Behavior Analyst Certification Board (BACB) has approved the course sequence as meeting the coursework requirement for taking the BCaBA Examination. The program is delivered in a fully online format, making the achievement of this credential as convenient as possible.
The BCaBA certification is recognized and accepted all over the world as verification that the holder has achieved a specific level of skills and competency in applied behavior analysis. Due to the increasing rate of ASD diagnoses and the relatively low number of certified behavior analysts, the employment outlook for graduates with this concentration are excellent.
"Due to the complex and overwhelming nature that an autism diagnosis has on a family, it takes a certain kind of person to work in this field. The program is for truly special people who want to make a difference and are willing to give a lot of themselves," said Michelle Rowe, Ph.D., director of the program. "Beyond the foundation of applied behavior methods, it takes hard work, concentration, patience and empathy each and every day. One of the things I love about my job at Saint Joseph's University is that I know I am making a really meaningful difference in the lives of these children and their families and I'm eager for our graduates to do the same."
Saint Joseph's University has helped working adults finish their bachelor's degrees for more than 30 years. Thanks to online convenience and 24/7 support, it's now easier than ever to start building a more fulfilling career and lifestyle through undergraduate education.
To learn more about the autism studies concentration of the online BS in Professional and Liberal Studies at Saint Joseph's University, call (866) 758-7670 to speak with a Program Manager or visit us at online.sju.edu.
About Saint Joseph's University:
Founded in 1851, Saint Joseph's University is a not-for-profit, Jesuit, Catholic university welcoming students of all faiths with the goal of producing graduates who will use their skills to improve the common good by promoting tolerance, compassion and social justice. Saint Joseph's University has been ranked the #8 Best Regional University, as well as among the top 15 master's universities in the nation by U.S. News & World Report for the past 15 consecutive years. Accreditation is by the Middle States Commission on Higher Education and programs are offered both on campus and online.