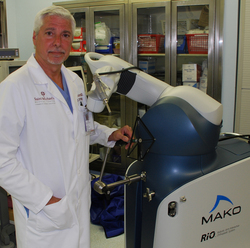 People cannot believe how quickly I am walking. I feel so much better. Dr. Boiardo has given me my life back.
Newark, N. J. (Vocus) May 12, 2010
A team at Saint Michael's Medical Center recently performed robotic-arm assisted orthopedic surgery, a technological leap that can spare healthy tissue, require a smaller incision, and result in a quicker recovery.
The procedure provides a new surgical option for patients with chronic knee pain.
Saint Michael's is the first hospital in New Jersey to offer the new procedure, called MAKOplasty. MAKOplasty helps patients with early to mid-stage osteoarthritis and allows them to gain relief without having to undergo a total knee replacement. By precisely targeting the portion of the knee that has been damaged, the surgeon can avoid compromising healthy tissue, and preserve ligaments for a more natural feel to the knee.
"This is the most dramatic development in joint surgery in the past 30 years," said Dr. Richard Boiardo, Chief of Orthopedics at Saint Michael's Medical Center. Dr. Boiardo used the MAKO RIO® Robotic Arm Interactive Orthopedic System to perform the procedure, known as MAKOplasty, on a 50-year-old man from South Orange whose knee damage progressed from an on-the-job injury.
"Our patient was in constant pain," said Dr. Boiardo. "He could no longer go camping or fishing or even mow his lawn. The robotic arm-assisted resurfacing worked perfectly, and he left the hospital the next day."
MAKOplasty® is an option for patients with osteoarthritis in the medial (inner), patellofemoral (top), or lateral (outer) portion of the knee. Using pre-operative planning technology to create a customized, three-dimensional model for each patient, the RIO system helps the surgeon plan the precise positioning of the implant and to maneuver accurately while resurfacing and repairing only the damaged portions of the knee.
"The day after the surgery, I was trying the steps. Now I am walking around the block and back," the patient said 11 days after the surgery. "People cannot believe how quickly I am walking. I feel so much better. Dr. Boiardo has given me my life back."
Saint Michael's Medical Center offers patients the latest in robotic technology, said CEO Robert H. Evans, who explained that the hospital uses the daVinci Surgical System for cardiac bypass surgery and for urologic surgery. Recently Saint Michael's began offering robotic gynecologic surgeries in addition to robotic-arm assisted knee surgery.
"For the right patient, robotic technology can mean a shorter hospital stay, less pain, less risk of infection, and less scaring," said Evans. "Our hospital embraces the medical technology we believe can improve the lives of our patients."
Established by the Franciscan Sisters of the Poor in 1867, Saint Michael's Medical Center is a 357-bed regional tertiary-care, teaching and research center in the heart of Newark's business and educational district. Saint Michael's Medical Center is a member of Catholic Health East (CHE). Based in Newtown Square, Pennsylvania, Catholic Health East is one of the nation's largest nonprofit health systems, with 34 hospitals in 11 states. More information is available at http://www.smmcnj.org.
###