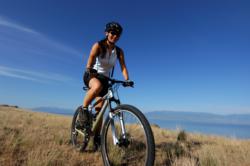 Physical activity can help stabilize and boost mood in those trying to recover from the physical effects of substance use.
Amsterdam, NY (PRWEB) July 12, 2012
Physical fitness activities not only improve overall health but have increasingly helped stabilize and boost mood in those trying to recover from the physical effects of substance use. The Saint Jude Program is proud to announce a new fitness program exclusively available at the upstate New York Mountain Retreat called the Gym Movement Program.®
This program allows all guests to exercise, even those with a disability, injury or physical limitations. In addition to this program, guests are also offered a free gym membership to a local fitness club.
The Saint Jude Program promotes physical activities such as these to build a healthier lifestyle. Other social events, which vary based on season and demographic of guests range from mountain hikes, obstacle course, indoor rock climbing, horseback riding, yoga, laser tag and more. These social activities are designed to promote teamwork, provide a variety of pleasurable experiences without substance use, as well as develop self-confidence, motivation and dedication, which are necessary skills for overcoming drug use or alcohol problems.
Jim Ruliffson, Executive Director of the Mountain Retreat comments, "Between excellently prepared meals and opportunities for exercise, to the self analysis and learning process that occurs at our retreats; the body and the mind can finally build stability and balance." He adds, "The great thing about the Gym Movement Program® is that anyone any age or with any disability can participate and feel great about themselves."
About Saint Jude Retreats: Saint Jude Retreats is a drug and alcohol program implementing proprietary methodology called Cognitive Behavioral EducationSM(CBE). The program is the only truly effective alternative to alcohol rehab and drug treatment centers in the United States. Saint Jude Retreats has been helping people overcome alcohol and substance use problems through their research-based program since opening its doors in 1992. The Saint Jude Retreats program is endorsed by internationally acclaimed professionals and addiction authors, such as Prof. Emeritus David Hanson, PhD; Prof. David Rudy, PhD; Dr. Joy Browne and the late Joseph Vacca, PhD, among others.