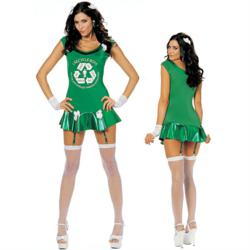 Going green on Saint Patty's Day isn't just about the color
Denver, Colorado (PRWEB) March 02, 2012
In the spirit of St. Patrick's Day TotallyCostumes has announced their top 3 ways to go green on March 17 in addition to unique costume ideas. Whether party goers dress up in St. Patrick's Day costumes, drink green beer or cook traditional Irish meals, going green on Saint Patty's Day isn't just about the color:
1. Be Green While You Wear Green
Buy a traditional St. Patrick 's Day costume that you love and use it year after year. Some ideas for adult costumes include; leprechauns, beer girl costumes like a St. Pauli Girl, a Lucky Charm cereal box and a pot of gold and rainbow couples costume. Invest in high quality long lasting costumes or clothes so you don't need to buy a new outfit every year. Incorporate fun accessories into your outfit like shamrock hats or beads, pot-o-gold purses, green hair clips, gloves and stockings. Save accessories, share and trade them with your friends.
2. Celebrate in a Green City
Boston has one of the highest populations of Irish- Americans, is home of the Boston Celtics and is also extremely environmentally conscious. Boston has one of the most efficient subway systems and their future efforts include turning all taxis into hybrid vehicles, using more solar panels and utilizing electric motorbikes for transportation. Other green cities include Portland and San Francisco. Even if you don't make it out of town, use public transportation, walk, ride your bike and recycle.
3. Eat Local Organic Food
Cook traditional St. Patty's days food like corned beef and cabbage, soda bread or lamb stew and use organic local produce and vegetables. Use reusable cooking and eating utensils, dinner plates and cloth napkins. Save your leftovers in environmentally safe Tupperware. Drink healthy beverages like organic green tea, limeade or kiwi smoothies. Try local organic beer or beverages. If you want to die your beer green create a natural die that isn't harmful to the environment by using spirulina or wheat-grass juice.
Celebrating Saint Patrick's Day should be fun, safe and an eco- friendly. For more costume ideas and ways to celebrate visit http://www.TotallyCostumes.com.
About TotallyCostumes:
TotallyCostumes is one of the largest online costuming retailers. TotallyCostumes offers Halloween costumes, kids costumes, movie and TV costumes and traditional looking costumes for a parties or events. TotallyCostumes offers more than 30,000 Halloween costumes, costume wigs, shoes, eye contact lens, and accessories. TotallyCostumes' mission is to offer the largest selection of quality costumes possible at the most competitive prices, online or offline.
###