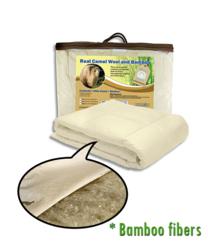 We are very excited to be able to bring these unique comforters and pillows to our customers in the United States and Canada
Brooklyn, NY (PRWEB) February 28, 2013
Saint Petersburg Global Trade House, the largest seller of Russian gifts, books, music, and movies outside Russia, announced today that it had recently signed an exclusive distribution contract for North America with Runo,Inc. the leading Russian manufacturer of bamboo fiber bedding – amazing new products that are poised to take the North American market by storm. These products are rapidly gaining popularity in Europe, but are virtually unknown in the United States.
"We are very excited to be able to bring these unique bamboo comforters and bamboo pillows to our customers in the United States and Canada," said Saint Petersburg GTH's president, N. Orlova, "and the fact that our company will be the sole distributor of all Runo products on this continent will ensure high standards of quality and distribution all over North America."
The technology of processing bamboo into thin, soft fibers is relatively new, but its fast gain in popularity is rooted in its indisputable advantages over many other fill materials. In fact, this completely natural and pesticide-free material is extremely soft and light, making comforters and pillows much lighter, compared to those, made with most other fill materials. What's more, the structure of bamboo allows for great air circulation and moisture-wicking processes, making the products perfect for use all year round. Also, the natural resistance of bamboo plants to pest and fungi infections, accomplished through a natural substance called "bamboo-kun," gives bamboo fiber products effective resistance to the spread of bacteria. Finally, other advantages of this material include its abilities to increase blood circulation, remove different toxins from the body, and promote better, healthier sleep.
According to St. Petersburg's manager of merchandising I. Safargalieva, "all of the items in this product line that are offered through our company are made specifically for the North American market and use standard sizes of Twin, Queen, and King. They feature a blend of bamboo fibers and camel or sheep wool as fill material, which make them cool in the summer and warm in the winter."
"We are certain that the incredible new bamboo fiber blend comforters and pillows collection will be a smash hit on this continent, just as they are in Europe, so we'll be able to work even more closely with Runo and bring new, even more exciting products in the future," she added.
About Saint Petersburg Global Trade House
Founded in 1994, Saint Petersburg Global Trade House takes its roots in Brooklyn, NY – the heart of NYC's Russian community. Saint Petersburg GTH takes great pride in the fact that it is the largest seller of Russian gifts, books, music, and movies outside Russia. The company offers products through its free colorful printed catalog, as well as operating brick-and-mortar stores in Brooklyn. The catalog is published quarterly in editions of 50,000 copies and can be requested by calling the toll-free number at 1-800-531-1037.
For additional information on the bamboo fiber bedding collection, visit http://www.fromrussia.com