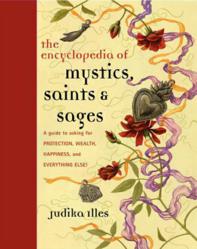 Bestselling author Judika Illes pulls together the stories, myths, and legends about the mystics, saints, and sages who people have called upon for help including saints from all traditions—Buddhist, Christian, Jewish, Pagan, Sufi, and more.
San Francisco, CA (PRWEB) October 11, 2011
People around the globe in every era have called upon saints and testified to miracles received. To this day, many affirm the power of saints to aid us in our times of need.
If you are desperate, if an illness cannot be cured by conventional methods or even diagnosed, if your problems seem insurmountable, if you cannot find employment, true love, or bear a child, saints exist to provide help. A saint is someone who has died, but remains accessible in order to provide assistance and produce miracles for the living. Despite popular belief, saints and sages do not come just from the Christian tradition, but from all walks of life and all spiritual traditions. They act as active, supernatural beings who can offer both physical assistance and spiritual guidance.
In ENCYCLOPEDIA OF MYSTICS, SAINTS & SAGES: A Guide to Asking for Protection, Wealth, Happiness and Everything Else! (HarperOne; October 2011; $32.99; 9780062009579), Judika Illes, author of the popular Encyclopedia of 5000 Spells and Encyclopedia of Spirits, outlines how through something as simple as a heartfelt cry to a saint, or gestures of veneration such as lighting candles or incense, everyone can obtain supernatural assistance.
ENCYCLOPEDIA OF MYSTICS, SAINTS & SAGES is an easy-to-use guide to the saints and how you can access them at any time for anything you need. Each entry gives helpful background on the saint, explains what types of people they traditionally assist, what offerings they accept, rituals to reach them, and more. The book also includes an easy to use index that allows the reader to pinpoint their problem and the exact saint who will offer assistance.
Some examples of saints and their areas of specialty:

Mary Magdalen and Saint Helena—help with love problems
Saint Christopher—safety in traveling
Saint Anthony—helps those who have lost anything from car keys to employment
Saint Agatha—renowned for healing breast cancer
Jizo—a Japenese Buddhist saint known for protecting mothers and children
Even in our darkest hours, there is hope: the saints. Illes offers a guide of unparalleled depth to the world of saints, mystics, and sages—and the miraculous powers they have to help us when we need them most.
THE ENCYCLOPEDIA OF MYSTICS, SAINTS AND SAGES
by Judika Iles
HarperOne, an Imprint of HarperCollinsPublishers
October 2011 | $32.99 | Hardcover | ISBN: 9780062009579
###