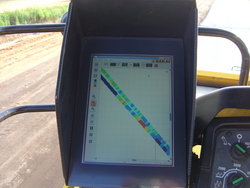 Weak areas can be identified and corrected before the HMA paving begins. This was demonstrated at an IC field demo last year in Minnesota when a portion of the pavement failed under construction traffic.
Adairsville, GA (PRWEB) August 5, 2009
SAKAI's 'Compaction Information System' (CIS) is proving to highway agencies and contractors that it's operator friendly, saves time and money and is also proving itself to be among the newest and most comprehensive compaction measuring tools.
Intelligent Compaction (IC), which is the compaction of soils, aggregate bases and HMA pavement materials using vibratory rollers equipped with a digital measurement system and a Global Positioning System (GPS) for mapping, is an emerging technology that holds the promise of becoming the new 'Gold Standard' for measuring compaction.
Technology advancements such as faster computers and advancements in GPS and software now make IC a reality. The electronic compaction data now available gives new views of the compaction process including everything you wanted to know but were afraid to ask. Agencies are starting to recognize the advantages and are developing IC Quality Control specifications with the goal of adopting IC as standard practice. IC is poised to become the quality control/quality assurance (QC/QA) tool for the 21st century.
Sakai's Compaction Information System (CIS) is factory-installed on Sakai's vibratory single drum soil rollers or double drum asphalt rollers and can be used for a variety of applications. CIS uses GPS position data and is compatible with most GPS systems used on construction projects.
CIS hardware includes a large touch screen PC display at the operator station, the Compaction Control Value (CCV) sensor and a surface temperature sensor. AithonMT (machine terminal) software allows the roller to document the compaction process and the AithonPD (Plan Design) office software creates the plan files and allows for further analysis of the data and for preparing reports that quantify the compaction results.
The compaction sensor - SAKAI's experience with compaction measuring systems for vibratory rollers dates from the early 1980's with the first compaction meters and the development of the CCV sensor. For more than 20 years, CCV has been used successfully to improve compaction results on a variety of soils, crushed rock and subbase materials and more recently with great success for HMA pavements as well. Sakai IC vibratory rollers utilize an accelerometer-based system. As compaction increases with increased roller passes, the drum accelerations increase according to the machine/ground interaction and the sensor calculates a Compaction Value or CCV indicating the degree of compaction. CCV is a relative value that typically increases with roller passes and can correlate with other conventional single point density measurement devices as well as mechanistic testing equipment.
Sakai's CIS records all compaction data for the entire project simultaneously, including GPS position, CCV, number of roller passes and surface temperature at every pass and every point along the way. This gives the contractor and engineer 100% coverage of the project, unlike a nuclear gauge. "The operator can see the results in real time on a big display screen," says Stan Rakowski, Technical Services Manager for Sakai America. "All recorded information (raw results) can be viewed and reviewed immediately on the roller by inspection personnel or the data can be downloaded via USB for further analysis using the office software."
The PC display is a simple touch screen built into the roller's control panel. This screen enables the operator to quickly assess the level of compaction required. "The color display is extremely user friendly and allows the operator to see where he has been and where he is going to obtain consistent and uniform roller coverage", says Rakowski. "Knowing when compaction has been achieved eliminates the possibility of over or under compacting the material, which will save contractors both time and money."
"We had a roller operator at one of our demonstrations recognize the change in the asphalt mix during compaction when monitoring the compaction values on the CIS display screen. This was confirmed with the asphalt plant. Sure enough, the plant changed the mix design," continues Rakowski.
"The CCV information is also viewable on the PC screen in real time and is vital information especially when mapping the subbase," says Rakowski. "Weak areas can be identified and corrected before the HMA paving begins. This was demonstrated at an IC field demo last year in Minnesota when a portion of the pavement failed under construction traffic." The Minnesota final report can be found at: http://www.intelligentcompaction.com/index.php?q=node/112 .
Since 2005, there have been a number of Federal and State sponsored demonstrations and research projects including NCHRP21-09, (the final report is due this fall) and the current Pooled Fund TPF-5(128), a three -year study with GA, IA, IN, KS, MD, MN, MS, ND, NY, PA, TX, VA, WI. That information can be found here: http://www.pooledfund.org/projectdetails.asp?id=359&status=4
Sakai's CIS results are documented in the final reports for Minnesota and Kansas, the New York demo was completed in May. Mississippi and Maryland were completed in July, Georgia is scheduled for August. The results from these studies is confirming the benefits of the technology including reducing paving penalties for the contractor, improvements in quality and savings in compaction costs while at the same time reducing the variability of density.
"This system has proven itself to be very successful throughout our demonstrations with consistent electronic data reports," says Rakowski. "We are very pleased with the results and are confident that the value of a CIS roller will be evident in all these demonstrations."
For more information on the IC demos, please visit http://www.intelligentcompaction.com.
SAKAI manufactures and markets a full line of compaction equipment, including vibratory soil compactors, vibratory asphalt rollers, vibratory pneumatic tire rollers, static three-wheelers and other combination rollers. For more information on Sakai's intelligent compaction system or other compaction equipment, please contact your nearest authorized dealer, log onto http://www.sakaiamerica.com, or call 1-800-323-0535.
###