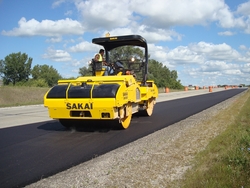 Adairsville, GA (PRWEB) March 6, 2009
SAKAI America's new SW880 high-frequency vibratory asphalt roller increases paving productivity by achieving density faster while leaving smooth finishes on all mixes, even the most challenging Superpave projects.
The SW880 offers a drum width of 79" and 4000 vpm, which allows for 10-12 impacts per foot at 4.55 mph. SAKAI's counter-rotating weight design helps achieve density at fast speeds. The front drum eccentric weights rotate clockwise while the rear drum weights rotate counterclockwise or vice versa depending on amplitude. This guarantees that the forces generated by the weights move up and down. By focusing these downward forces into the material, the SW880 eliminates the possibility of pavement shoving, scuffing and hairline cracks.
The drums of the SW880 are machined smooth and edges are rounded for a smooth mat surface. The SW880 is an excellent roller for the compaction of county, state and interstate highways, airport runways and Superpave projects.
The SW880's power, comfort and safety also enhance productivity. The SW880 offers a powerful, yet fuel-efficient Deutz TCD 2012 L04-2V Tier III diesel engine that delivers 131 hp. The operator's station is designed with a rubber-isolated floating deck to minimize vibration to the operator, which minimizes fatigue. The SW880 also consists of a five-position, 180° rotating operator console with instrument panel and seat. This design ensures that all controls are easy to reach and gauges are easy to view no matter what position the console is in. The SW880 also provides 360° visibility plus a great view of the drum edges from the operator's seat. The SW880 offers 29.5-inch curb clearance to avoid guard rails. Keeping operators safe is a top priority for SAKAI. ROPS and seat belts are standard equipment on every Sakai roller sold in North America.
Another innovative feature on the SW880 roller that enhances paving productivity is the ExactCompact system located on the control panel. This system measures impact spacing and determines the speed that the roller should travel to ensure exact compaction. Once the proper impact spacing is determined, the operator adjusts the roller's ground speed until the green lights are illuminated on the ExactCompact. This operator-friendly system speeds up roller operation and productivity.
The SW880's unrivaled spray system eliminates downtime during the crucial compacting stage. The spray system consists of rustproof tanks, stainless pipes, and brass nozzles that can simply be replaced by hand. The triple filtration system prevents clogging from debris and a pressurized emergency back-up pump system provides water in the event of a water pump failure.
SAKAI manufactures and markets a full line of compaction equipment, including vibratory soil compactors, vibratory asphalt rollers, vibratory pneumatic tire rollers, static three-wheelers and other combination rollers. For more information on the new SW880 or other compaction equipment, please contact your nearest authorized dealer, or log onto http://sakaiamerica.com/index.dws or call 1-800-323-0535.
###