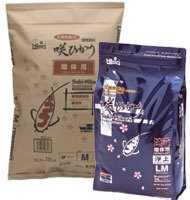 We are exited about the addition of the Saki-Hikari line of koi diets
Independence, MO (Vocus) June 14, 2010
KoiPondFever.com announced today that they have added Saki-Hikari koi food to their product line. Now available is the Color Enhancing Diet and the Growth Diet in medium pellet 4.4 pound bag. The Saki-Hikari Color Enhancing Diet is rich in pure-cultured Spirulina and higher levels of Zeaxanthin offering vivid color enhancement of the red areas with no negative impact on the white areas. The Saki-Hikari Growth Diet offers outstanding growth characteristics to help the advanced hobbyist develop jumbo sized champions. The Saki-Hikari Multi Season Diet will be available for the fall season. The Multi Season Diet is great for feeding koi in cooler temperatures. It is rich in easily digested ingredients and can be fed to koi in water temperatures down to 50 degrees Fahrenheit.
Hikari is the most popular koi food in Japan and Hikari's Saki-Hikari has been developed as a result of decades of firsthand breeding experience and considerable insight from a number of Japan's top professional breeders. Saki-Hikari is the diet used by the All Japan Koi Show Grand Champion winners in back-to-back shows since 2003. All of the Saki-Hikari diets contains a patented, living probiotic. This "Hikari Germ" is a strain of Bacillus bacteria which, when fed, proliferates itself inside the intestine of the koi offering many incredible benefits. This probiotic facilitates digestion, reduces proliferation of bad bacteria reducing disease, and reduces the amount of waste produced in the digestion process. This improves water quality and reduces the load on the bio-filtration of the pond.
"We are exited about the addition of the Saki-Hikari line of koi diets", states RC Moore, president of KoiPondFever.com. "The koi is the focal point of a koi pond, and offering products that enhance the health, coloration, and growth of koi creates a positive experience for koi pond owner that will last for many years. This is the passion that drives our business."
KoiPondFever.com continues to offer new products that are high quality at affordable prices. Not every koi keeper has the same idea as to what is the best koi food for their prized koi. When choosing a koi food, it is best to consider the ingredients and the price per pound and not the size of the bag. Some koi foods are filled with air and it looks like the customer is getting more that what they are. The better koi foods provide more natural ingredients that add to the overall health of the koi reducing illness and death rate, while enhancing color, growth, and body conformation.
For more information visit KoiPondFever.com.
# # #