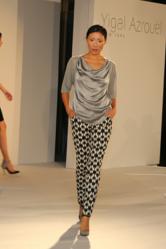 Houston, TX (PRWEB) November 06, 2012
On Thursday, November 1st, Amschwand Sarcoma Cancer Foundation (ASCF) and event chairs Laura Arnold, Kelli Blanton and Jennifer Segal hosted the 2012 Catwalk for a Cure Gala and Fashion Show at Hotel ZaZa (Houston). The event generously underwritten by Saks Fifth Avenue since its inception honored Houstonian and sarcoma survivor Alexandra Knight. The runway show featured the Spring 2013 collection of designer Yigal Azrouël. Guests and supporters bid on a number of items in a live auction while dining before the fashion show, including a ring donated by Nini Jewels. The ring was on display at Saks Fifth Avenue before the event, and Nini Jewels donated 10% of all sales at Saks during the month of October to ASCF. The philanthropic guests enjoyed the modern, fresh and vibrant collection that Yigal Azrouël is known for, and stayed after to enjoy cocktails provided by Grey Goose.
About The Amschwand Sarcoma Cancer Foundation
Since ASCF's inception in 2001, the Houston-based non-profit organization continues to focus on fulfilling its mission of increasing awareness of sarcoma, directly funding sarcoma research and providing tangible support to families affected by the rare cancer that affects thousands of men, women and children each year. ASCF's physician scientist program provides sarcoma specific funding to researchers around the country, including leading specialists in the Texas Medical Center. Annually, ASCF provides almost one-thousand nights of free housing to sarcoma patients traveling to Houston for medical treatment, second opinion or follow-up. Through a multitude of channels, ASCF continues to raise awareness of the deadly cancer and the needs of those affected by it.
For more information on the 2013 Catwalk for a Cure event or to become a sponsor, please contact Melissa Amschwand Bellinger at info(at)sarcomacancer(dot)org. To learn more about the Amschwand Sarcoma Cancer Foundation, please visit http://www.sarcomacancer.org.
About Saks Fifth Avenue
Saks Fifth Avenue, one of the world's preeminent specialty retailers, is renowned for its superlative American and international designer collections, its expertly edited assortment of handbags, shoes, jewelry, cosmetics and gifts, and the first-rate fashion expertise and exemplary client service of its Associates. Today, Saks operates 45 full-line stores in 20 states, 2 licensed stores in the Middle East and 2 licensed stores in Mexico City, 61 Saks Fifth Avenue OFF 5TH stores and saks.com, the company's online store.
Saks Fifth Avenue is proud to be named a J.D. Power and Associates 2012 Customer Service Champion and is only one of 50 U.S. companies so named. For more information, please visit http://www.saks.com.