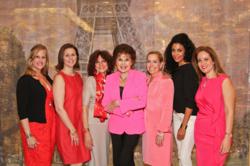 Houston, TX (PRWEB) February 20, 2013
Saks Fifth Avenue was the scene of the Third Annual Houston Sweethearts Philanthropy Celebration where over 150 guests, wearing Valentine red and pink, honored the six honorees for their work in the community, and sipped bubbly in the romantic French Bistro designed by Saks Marketing Director, Chad Carpenter. After introducing and welcoming the new General Manager, Bobby Dees, Warner introduced former Houston Sweethearts, Kimberly Delape, Deborah Duncan, Mehrnaz Gill, Sylvia Forsythe and Alicia Smith to introduce the 2013 Houston Sweethearts, Donatella Benckenstein, Ursaline Hamilton, Rosemary Schatzman, Vanessa Sendukas, Pily Simon and Donna Vallone.
The event was part of the Saks February initiative called Saks Loves Your Cause. Saks Fifth Avenue will give 5% of all registered purchases made with a Saks Fifth Avenue credit card for the month of February. The donations will benefit The American Red Cross and select local organizations, keeping support within each Saks Fifth Avenue store's immediate community.
The Houston Saks Fifth Avenue has partnered with the following charities from February 1 to 28, 2013:
Citizens for Animal Protection
Legacy Community Health Services
The American Red Cross—Houston Chapter
Spreading & Loving the Saks Cause: Former Sweethearts, Phoebe Tudor and Monica Hartland, Frann Lichtenstein, Patty Murphy, Kathi Rovere, Elizabeth Stein, Angie Roberts. Julie Brown, Betty Hrncir, Lois Stark, Joann Crassas, Astrid Van Dyke, Debbie Greenbaum, Bain Pearson Pitts, Carol Sawyer, Kim Padgett, Nancy Dinerstein, Dallas Hill, Diane Gendel, Rosanne Rogers, Leila Gilbert, Virginia Steppe, Susan Boggio.
About Saks Fifth Avenue
Saks Fifth Avenue, one of the world's preeminent specialty retailers, is renowned for its superlative American and international designer collections, its expertly edited assortment of handbags, shoes, jewelry, cosmetics and gifts, and the first-rate fashion expertise and exemplary client service of its Associates. Today, Saks operates 45 full-line stores in 20 states, 5 international licensed stores, 65 Saks Fifth Avenue OFF 5TH stores and saks.com, the company's online store. Learn more at http://www.saks.com/houston.
Saks Fifth Avenue is proud to be named a J.D. Power and Associates 2012 Customer Service Champion and is only one of 50 U.S. companies so named.