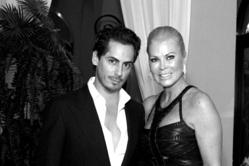 I was thrilled to share my friend, Kilian Hennessey, for an intimate ladies evening in The Woodlands. I was so pleased to partner with Saks Fifth Avenue to make this event happen.
Houston, TX (PRWEB) October 08, 2012
On Thursday, October 4th, as the warm fall day turned to a lovely, warm fall evening, award winning author, beauty queen, entrepreneur, motivational speaker and philanthropist, Theresa Roemer, welcomed sixty of her friends as guests to the Roemer Residence in Carlton Woods in The Woodlands for a fundraiser which welcomed Kilian Hennessey, fragrance creator and owner of Kilian. The special event was organized and coordinated with the Houston Saks Fifth Avenue, as well as Kilian, to raise money for a cause dear to Roemer, the Montgomery County American Heart Society.
Lamar and Theresa Roemer underwrote the poolside fundraiser event, and guests donated $100 dollars to attend, with 100% donated to The Montgomery County American Heart Society, in addition to 5% of all Kilian product sales at the fundraiser. Guests enjoyed a beautiful candle-lit affair while enjoying a freshly prepared desert montage and a champagne bar with a specially created champagne fusion menu. An elegant white stage across the pool provided an intimate setting for designer Kilian to speak to the guests about his history, design process and to express his passion for fragrances, and allowed guests to ask questions that ranged from personal fragrance selection to inspirations for Kilian scents. Kilian also introduced his new line of clutches, and newest scents, Asia Tales: Water Calligraphy and Bamboo Harmony. After speaking, Kilian signed all purchases and offered suggestions with assistance from the Saks beauty and fragrance team, as guests enjoyed shopping for Kilian scents, candles and clutches at a special Kilian shop provided by Saks Fifth Avenue, the premier shopping store that exclusively sells the Kilian line in Houston.
Roemer stated, "I was thrilled to share my friend, Kilian Hennessey, for an intimate ladies evening in The Woodlands. I was so pleased to partner with Saks Fifth Avenue to make this event happen." It was a creative and aromatic event that raised over $6000 for the Montgomery County American Heart Society.
About Kilian Hennessey
Heir to a long line of cognac makers that were pioneers in luxury, the grandson of the founder of the LVMH Group, Kilian decided to take up the torch of family tradition.
His childhood haunts included the family cellars in Cognac. Before graduating from CELSA (School of Higher Studies in the Information and Communication Sciences at the Sorbonne) he wrote a thesis on the semantics of odors in search of a language common to gods and mortals. In search of the "angels share", he encountered the world of perfumery. The "angels share" is what the House of Hennessy calls the percentage that ‐ inexplicably ‐ evaporates from cognac cellars, like an offering to the gods. Kilian's fragrances are redolent of the sugar in alcohol and the wood of cognac barrels.
After graduating from a university program in communication and language sciences, he trained with the greatest noses in perfumery and worked for the most prestigious perfume houses such as Christian Dior, Paco Rabanne, Alexander McQueen and Giorgio Armani.
In 2007, he launched his own brand with a collection that not only reflects his personality yet also achieves a perfect alliance between elegance and uncompromising luxury.
About Saks Fifth Avenue
Saks Fifth Avenue, one of the world's preeminent specialty retailers, is renowned for its superlative American and international designer collections, its expertly edited assortment of handbags, shoes, jewelry, cosmetics and gifts, and the first-rate fashion expertise and exemplary client service of its Associates. Today, Saks operates 45 full-line stores in 20 states, 2 licensed stores in the Middle East and 2 licensed stores in Mexico City, 61 Saks Fifth Avenue OFF 5TH stores and saks.com, the company's online store.
Saks Fifth Avenue is proud to be named a J.D. Power and Associates 2012 Customer Service Champion and is only one of 50 U.S. companies so named.