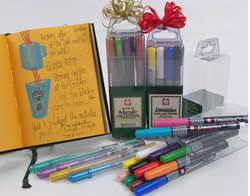 Our readers are going to be thrilled at the opportunity to win something exciting like Sakura's Collection Sets. In all honesty, as a card maker and scrapbook enthusiast there is no product that comes close to the superior quality of Sakura of America
Hayward, CA (PRWEB) September 17, 2008
The new Sakura of America (Sakura) Collection Set Series is highlighted this fall as contest prizes of blog sites, magazines, and online publications. Collection Sets are the most popular Sakura brands packaged in durable, reusable containers that store easily to help stay organized. The Collection Set brands are: Gelly Roll Metallic®, Gelly Roll® Stardust®, Glaze®, Micron® 05, Soufflé™, Pigma® All Black, and a Permapaque® Fine with both traditional and metallic colors.
The October issue of Shojo Beat, a VIZ media manga magazine, promotes a Halloween theme manga drawing contest which includes the Pigma Micron Collection Set in its grand prize award for the winning entry. Creative Therapy, a blog site dedicated to using self-expression through art as therapeutic work, will use Gelly Roll Stardust Collection Set as a prize on October19th, and again on December 7th.
In November, 100,000 subscribers to Scrapbooking.com magazine will be introduced to the entire Collection Set series in a consumer email blast, and in a Pen Department article that will feature projects made with the sets. The blog site, 2 Sketches 4 You,]will challenge card makers November 10th and 24th, and award a Gelly Roll Stardust and Metallic Collection Set to the handmade card contest winners, respectively.
"Our readers are going to be thrilled at the opportunity to win something exciting like Sakura's Collection Sets. In all honesty, as a card maker and scrapbook enthusiast there is no product that comes close to the superior quality of Sakura of America," states Kazan Clark, co-founder and co-owner with Laura Davis of 2 Sketches 4 You blog site.
TVWeekly.com kicks-off its fall webisode season with projects using Collection Sets of Glaze, Gelly Roll Metallic and Permapaque Fine. Craft pros personalize wooden ornaments and make decorative garlands for holiday decorating of table-top trees.
About Collections: http://www.sakuraofamerica.com/collections
Pen lovers, crafters, artists, collectors, and professional organizers can create a special writing instrument zone for their desk, shelves, and studio or offices to position Collection sets within easy reach. The popular brands of Sakura pens and markers are packaged in durable, reusable containers to easily categorize storage of useful items. Perfect for gifts, awards, and incentives.
Each Collection Set contains 16 pieces, and the manufacturer suggested retail price is:
Gelly Roll Metallic: $20.64 stock number: 57369
Gelly Roll Stardust: $27.04 stock number: 57913
Micron 05: $43.04 stock number: 50075
Pigma All Black: $43.04 stock number: 50076
Glaze: $31.68 stock number: 58377
Soufflé: $31.68 stock number: 58351
Permapaque: $31.68 stock number: 58314
About 2 Sketches 4 You:
Founders and owners of this blog, Kazan Clark and Laura Davis, based in Colorado, challenge readers with contests to make handcrafted cards and scrapbook pages based on their unique sketches.
About Creative Therapy:
The Creative Therapy founder is Karen Grunberg. Creative Therapy is a site dedicated to using art to create therapeutic work. Each week a catalyst (topic) is selected and bloggers use any form of art to express their feelings and experiences which provides a means to experience the therapeutic power of art.
About http://www.scrapbooking.com Scrapbooking.com:
Scrapbooking.com, a monthly scrapbooking publication, is a division of the A-Z Media Group, and the largest single source of scrapbooking information in the scrapbooking industry, and located in California.
About TVWeekly.com:
TVWeekly.com, based in California, is a free online television programming anytime you want to watch! New episodes scheduled for the fall. Plum & Verdigris, a show about the art of jewelry making which has been around for eons, learn from the pros with a new webisode premiering each Wednesday! Scrapbook Lounge, with over one hundred and thirty webisodes in the archives, and a new one premiering each Friday, you'll never be short on paper craft inspiration!
About VIZ Media, Shojo Beat magazine:
Headquartered in San Francisco, CA, VIZ Media, LLC (VIZ Media) is one of the most comprehensive and innovative companies in the field of manga (graphic novel) publishing, animation and entertainment licensing of Japanese content. Owned by three of Japan's largest creators and licensors of manga and animation, Shueisha Inc., Shogakukan Inc., and Shogakukan-Shueisha Productions, Co., Ltd., VIZ Media is a leader in the publishing and distribution of Japanese manga for English speaking audiences in North America, the United Kingdom, Ireland, and South Africa and is a global ex-Asia licensor of Japanese manga and animation.
The company offers an integrated product line including magazines such as SHONEN JUMP and SHOJO BEAT, graphic novels, and DVDs, and develops, markets, licenses, and distributes animated entertainment for audiences and consumers of all ages.
About Sakura Color Products of America, Inc.:
Sakura Color Products of America, Inc. (Sakura) is committed to the development of writing instruments and artistic mediums that empower individual self-expression, creativity and enhance communication. Headquartered in Hayward, CA, the company services the U.S. and Canada, and is the U.S. subsidiary of privately held, Sakura Color Products Corporation of Osaka, Japan. Sakura manufactures the popular Gelly Roll® gel pen, Pigma® Micron® fine-line pens, Cray-Pas® oil pastels, as well as many other high-quality writing instruments, art materials, and industrial markers. Sponsor of Grand Sumo Tournaments 2008 and 2007, and Maker Faire 2008. For company, product details, and a retailer locator, visit http://www.sakuraofamerica.com or call 800-776-6257 for more information.
###