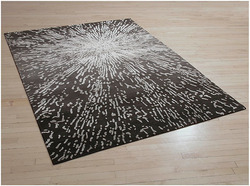 We are excited to participate in this year's IDSwest with brand new collections
Vancouver, BC (Vocus) September 4, 2009
Salari Fine Carpet Collections unveils five new distinctive rug collections at the Interior Design Show West (IDSwest) from September 17 to 20, 2009 at the Vancouver Convention Centre. Among the five include Toronto-based Creative Matters' award-winning Aerial collection, and Moroccan textured carpets by Paulig.
"We are excited to participate in this year's IDSwest with brand new collections," explains Sasan Salari, owner of Salari Fine Carpet Collections. "Each year, our aim is to provide designers, architects and consumers with beautiful and unique options for their space - designs that really capture the essence of a room."
Headlining the display is the award-winning Aerial collection by Toronto-based design firm Creative Matters. Described as powerful and ethereal, mystical and tellurian, the collection evokes a range of elemental purity - from percolating molten designs to explosive stardust elegance.
"The Aerial collection definitely elevates the carpet design industry," adds Salari. "Not only are the designs unique, but their colour palette is very elegant."
Paulig's textured carpets from Morocco will also be prominently showcased. A combination of wool and jute, the rugs are handcrafted with beautiful variation in colours.
Salari will also feature designs by prominent textile designer Mark Pollack for Tufenkian, bold abstract and painterly designs by Galerie Diurne, and select Far East and African Tribal inspired designs from Lapchi's 2009 collection.
IDSwest is Western Canada's annual premiere residential design show featuring 200 exhibitors with quality products and services. Participants include industry professionals, architects, designers, consumers, and media.
For more information about the various collections Salari carries, please visit http://www.salari.com.
About Salari Fine Carpet Collections
A gem in central Kerrisdale for more than 20 years, Salari Fine Carpet Collections offers an exclusive range of beautifully hand-woven rugs, including lines from Lapchi, Creative Matters, Paulig, Diurne, Miri, HJR, and Tufenkian Artisan Carpets. Each carpet is created with luxuriously hand-carded, and hand-spun wools and silks. Many can be custom made to an extensive selection of sizes and colours. With a beautiful theatre-gallery style showroom, Salari gives area rug admirers and collectors a new way to appreciate quality carpets up close.
For more information on Salari Fine Carpet Collections, please visit http://www.salari.com.
Reference:
Sophia Cheng
Media Relations
Curve Communications
T: 604.684.3170 x104
# # #