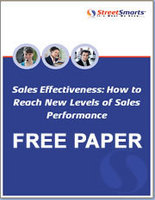 Many solution and technology vendors have over promised improved sales performance and under delivered and this paper explains why
Chicago (PRWEB) December 10, 2009
StreetSmarts® Inc. today announced, the availability of a new white paper designed to address the key issues around delivering improved sales performance through sales effectiveness. The free white paper titled "Sales Effectiveness: How to reach new levels of Sales Performance" outlines the challenges organizations are currently facing with delivering top line sales performance and how to address these challenges head on. The paper can be downloaded from http://www.streetsmarts.com/solutions/sales-effectiveness.
Key topics highlighted in the paper include step by step methods for improving sales effectiveness and the business impact it can provide sales organizations. The paper draws on key market findings and independent research to examine both the challenges and the opportunities for organizations striving to improve sales performance against very challenging market conditions.
Sales effectiveness refers to the ability for sales teams to achieve preferred or optimal operational performance throughout each stage of the company's selling process as well as the prospect/customer buying process. When sales effectiveness strategies are optimized, they apply across the broadest spectrum of the sales organization and become relevant to all sales and even to the extended value chain such as channels and partners and not just for discrete user groups or niches.
"There has never been a more important time for companies to really consider how best they might optimize the performance of their sales teams, rather than rely on a handful of star performers " said Dave Batt, CEO and Founder of StreetSmarts® Inc. "Many solution and technology vendors have over promised improved sales performance and under delivered and this paper explains why."
In their 2009 Sales Performance Optimization Survey of more than 1800 firms, industry analysts CSO Insights found that the percentage of salespeople meeting their quota dropped in 2008 from the previous two years to only 58.8%, signaling difficult times ahead. The top two initiatives sales executives called out for 2009 were to increase sales and to increase sales effectiveness.
"We do not believe that success in 2009 will be achieved by making more sales calls since that has already been increasing over the past few years with minimal impact on sales results" said Jim Dickie, Principle & Founder, CSO Insights. "Your salespeople need to be more effective at selling than they were in previous years – to create a sense of urgency amongst your buyers that moves evaluating your solutions to the top of their priority list."
View the original press release at http://www.streetsmarts.com/about-streetsmarts/news/153-streetsmarts-announces-paper-on-sales-effectiveness.
About StreetSmarts® Inc.
StreetSmarts® 5.6 is based on a Software-as-a-Service (SaaS) platform that unites company-wide knowledge and enterprise social networking components to deliver business value for enterprise wide knowledge based and line of business initiatives such as sales performance and effectiveness, channel enablement, training reinforcement and transforming intellectual capital into actionable knowledge through information management.
Because of its adaptive, lightweight nature and built in usability features, StreetSmarts® is able to provide a working solution specific to each client's business requirements in a matter of days, rather than months of complex software deployments. In addition, this also allows clients to quickly react to changing new business practices and external market conditions without the need for massive customization or programming.
For more information on StreetSmarts®, visit http://www.streetsmarts.com or call +1 650 351 1890
###