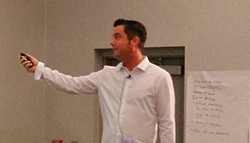 Just this year alone, we have generated over 50,000 leads for companies in North America and Canada to help emerging companies to grow
New York, NY (PRWEB) August 31, 2015
One of the new marketing methods used by companies in the automotive industry is to use third-party lead generation companies to acquire new customers. The Brian Hanson company is now offering sales leads for transmission shops generated through its new promotional services at http://brianhanson.com/auto-parts-lead-generation.
Companies that retail used, rebuilt or new condition gearboxes for any major vehicle brand could benefit from the sales leads that are now offered. Because a range of marketing platforms are now utilized to generate new customers, the BrianHanson.com company has been able to collect more consumer data that is helpful to transmission shops and auto body shops selling parts.
"Just this year alone, we have generated over 50,000 leads for companies in North America and Canada to help emerging companies to grow," said a rep at the BrianHanson.com company.
The use of mobile systems to market replacement vehicle components to consumers is now one of the strategies used at the Brian Hanson company. Along with regular digital promotion solutions, the incorporated mobile methods are reaching a new demographic of consumers who purchase automotive components or accessories on the Internet.
"Many small shops that sell foreign or domestic gearboxes to the public do not have a large advertising budget to reach more potential buyers," the rep added.
Owners of automotive parts businesses that are interested in the generated sales leads can obtain more information by signing up through the new web contact form on the Brian Hanson company website. Aside from reaching more automotive consumers, other strategies to diversify into more industries are now being developed for integration in 2016.
About BrianHanson.com
The BrianHanson.com company website was launched to provide marketing information and advice to small business owners in North America. New services to generate leads and profit for smaller companies are now in effect. The BrianHanson.com company successfully owns and controls hundreds of websites for clients in all parts of the USA.