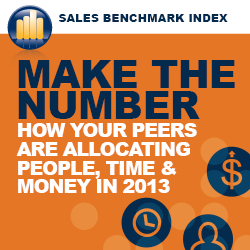 Dirty data from the field, and untested assumptions from corporate, have created the need for accurate, peer generated information to help sales leaders build the 2013 sales plan.
Las Vegas, NV (PRWEB) August 30, 2012
Sales Benchmark Index today announced the addition of 25 more sessions, in addition to the original 50, for this year's sales benchmarking research tour. This year's event, "Make the Number: How Your Peers are Allocating People, Money and Time in 2013", sold out 2 months ahead of schedule. Sales leaders demonstrated greater than expected interest in the 6th annual Sales Benchmarking study, during which SBI analyzed over 12,000 buyers, 10,000 sales reps, 4,500 sales managers, and 1,100 sales metrics.
Topics in this year's study include:

Buyer behavior
Lead generation
Incentive compensation
Organizational models
Sales methodologies
Hiring profiles
Time management
"Sales kickoff is right around the corner and sales leaders do not have the data they need to build the 2013 plan", noted Greg Alexander, CEO of Sales Benchmark Index. "The data coming from the field is dirty. The assumptions being made by corporate are untested. The lack of reliable, accurate, and actionable sales data is hindering the sales leaders' ability to set his or her team up for success in the new year. This one-of-a-kind research contains the critical information necessary to make decisions that will drive revenue growth."
The 2013 Sales Benchmarking study analyzed sales organizations across dozens of metrics and found that many companies intend to increase their investments in their sales teams in response to CEO's search for top line revenue expansion. Head count budgets are expected to increase, demand generation spend is forecasted to double, sales training efforts are on the rise, and target compensation plans for sales reps is expected to increase.
This year Sales Benchmark Index is presenting their study findings in a global tour. SBI researchers are traveling to company headquarters and reviewing the 7 best practices directly with sales leaders. The sessions are at no cost to the participating companies because the tour has been sponsored by the firm's publisher. Company executives learn how their sales strategy for 2013 compares to best practices by participating in these interactive sessions. Those interested in scheduling a visit from SBI researchers will find registration information at
http://www.MakingTheNumber.com.
About Sales Benchmark Index:
Sales Benchmark Index provides sales consulting services to leading organizations across the private and public sectors. These companies are seeking to increase their rate of revenue growth. Unlike traditional sales improvement approaches, such as software implementations or skills training, we offer superior value because we rely on the benchmarking method to deliver results. This method of sales consulting allows for results to be delivered quickly with little organizational disruption. This is accomplished through the use of best-in-class diagnostic tools and solutions that are supported with verifiable proof. Each project is executed by the most experienced team of advisors in the industry.
For more information on this research go to: http://info.makingthenumber.com.
Or contact Christina Dieckmeyer for more information:
Christina.dieckmeyer(at)salesbenchmarkindex(dot)com or 317-750-7443.