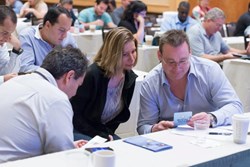 Many businesses are essentially casting droves of fishing lines from their boats with the wrong bait. The prospects will nibble at the bait, but they won't get hooked. This event is about harnessing the power of persuasion (...)
MIAMI, FL (PRWEB) April 16, 2013
To help members and guests combat reported low sales conversion rates, Renegade South Florida Entrepreneurs (RSFE), in partnership with the Miami Chapter of Glazer-Kennedy Insider's Circle (GKIC) – the premiere direct marketing group in the U.S.-, announced that will host a 'Sales Conversion Clinic' at their next event, April 24, from 2-6:15 p.m. in Hollywood, Fla. The Entrepreneurship and Marketing experts leading the group guarantee the exposed information will significantly impact the way local small businesses close deals by helping them capture the core characteristics of powerful persuasion and expert authority, which are sure to transform leads into customers.
Sales leads are frequently emphasized, but often only lead prospects to dead ends. Businesses repeatedly miss their opportunity to seal the deal. All lead generation tactics, both on and offline, experienced severe declines in effectiveness from 2010 to 2011, according to a B2B Benchmark study in 2012.
Additionally, the 2012 Lead Generation Benchmark Report, with 1,915 companies surveyed, revealed that despite an increasing demand for qualified leads, many organizations are not willing to invest more than $20 per lead. That means they are receiving a large amount of leads that are not currently – and might not ever be - apt to fully engage in the sales process all the way to the final sale.
"Many businesses are essentially casting droves of fishing lines from their boats with the wrong bait. The prospects will nibble at the bait, but they won't get hooked. This event is about harnessing the power of persuasion - potential customers need to be offered the right information, at the right time, and certainly the right way," said Andrew Cass, RSFE Chapter Director.
Due to the changing business landscape with many transactions occurring via Internet, it is now vital to offer sales leads an instant connection, an enticing offer to them, and a powerful reason to stay longer on that website or landing page - even willing to volunteer personal contact information, according to Cass.
As observed by that same lead generation report, on average, organizations that nurture their leads experience a 45 percent increase in lead generation return on investment over those organizations that do not.
"This meeting will help small business owners generate their own 'call-to-action' strategies, and implement them right away, to better connect with prospects - fast," said Mande White, RSFE Marketing Director. "But we also know the importance of cultivating that future customer, as some might convert sooner, some later; we look forward to sharing our proven sales conversion methods, guaranteed to make that happen."
The following video features Andrew Cass presenting more event details: http://nobsmiami.com/event/. First-time guests are welcome to attend free of charge and encouraged to arrive at 2 p.m. for a personalized orientation. Guests can receive up to $1,000 in free gifts from the #1 Direct Response Marketing group in the U.S. [GKIC].
About Renegade South Florida Entrepreneurs / GKIC Miami Chapter
Hosts Andrew J. Cass and Mande White are both co-authors with marketing guru Dan Kennedy in The Ultimate Success Secret: South Florida Edition. The monthly Renegade South Florida Entrepreneurs group features extensive networking opportunities, sharing of Dan Kennedy-inspired marketing methods and "how to" and "what works" success stories. RSFE is the Miami Chapter of the renowned Glazer-Kennedy Insider's Circle, in which south Florida's brightest entrepreneurs gather to discuss ideas and help each other achieve breakthroughs in their businesses.
Andrew is the Direct Sales and Marketing Strategist, 'Dan Kennedy Certified' Business Advisor, author, speaker and owns his own Mobile Marketing business. Mande launched an information product in 2001 and has more than 10 years of experience in supporting some of the most successful Internet Marketers in the U.S., advising on strategy, product offerings, traffic methods and conversion techniques. Her efforts resulted in over $20 million in additional revenue for her clients. Additional information about Renegade South Florida Entrepreneurs can be found at http://nobsmiami.com.