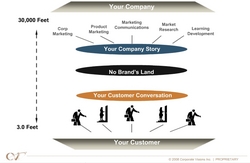 Our latest release of the Power Positioning™ series integrates the messages, tools and training companies need to be different where it counts - in their customer message.
Incline Village, NV (PRWEB) January 2, 2009
You've spent thousands of dollars on outside agencies, voice-of-the-customer segmentation research and offsite meetings to create your company's brand message. Now what? How are you going to translate the 30,000-foot brand message into something that resonates at the 3.0-foot level -- the distance between your sales people and your customer?
Corporate Visions® Inc., announces the latest release of its Power Positioning 2.0 series, a systematic approach for developing messages and tools that sales people will actually use to deliver your brand more consistently at the all-important point of sales interaction.
Blend creativity and discipline
Traditional marketing messaging efforts fall short in helping sales people help customers make decisions about your products and services. The challenge is that messages are either too high-level and fail to speak to the customers' challenges, or too low-level and filled with product or service details. As a result, customers have trouble seeing your real value.
Power Positioning™ provides a disciplined process that starts and ends with the customer, is synchronized to the customer buying process, and produces messages that can be used consistently and powerfully in customer conversations -- whether used in person, over the phone, on the web, published in marketing communications, in a tradeshow, or promoted in story form by your executives and leaders.
"Power Positioning blends creativity with discipline in a cross-functional workshop setting bringing together product, marketing and sales subject matter experts to create a customer-focused field message," says Tim Riesterer, Corporate Visions' CMO and SVP of Strategic Consulting Services. "You'll create a message that your sales team can't wait to tell, your customers want to hear, and your competition can't touch."
Through a series of interactive, industry-proven methodology, your sales and marketing teams will create differentiated Power Positions™, develop Conversation Roadmaps™, and construct sales tools and message objects that align with specific sales activities in the customer buying cycle.
"Traditionally, corporate branding, marketing communications, and sales training have been managed in silos. Today, companies are aggressively seeking better alignment between these groups to improve performance," says Joe Terry, President of Corporate Visions. "Our latest release of the Power Positioning™ series integrates the messages, tools and training companies need to be different where it counts - in their customer message."
About Corporate Visions
Corporate Visions helps companies differentiate themselves from their competitors -- where it counts, in their customer message. The Corporate Visions Customer Message Management™ system helps companies create, deliver and sustain messages in a way that creates a differentiated customer experience at the point of sale. Corporate Visions works with globally recognized companies such as MasterCard, ADP, IBM, Fidelity, Volvo Trucks, CA and many more. Corporate Visions provides marketing and sales messaging, tools and training products and services. For more information contact us at 775‐831‐1322 or 800‐360‐SELL.
Conversation Roadmap, Corporate Visions, Power Position, Power Positioning are registered trademarks of Corporate Visions Inc.
###