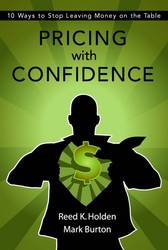 Our training gives sales the right information at the right time resulting in a sales force that is confident in price negotiation.
Concord, MA (PRWEB) February 28, 2008
Holden Advisors announced today the launch of two uncomplicated, team-building training seminars: Pricing with Confidence and Selling with Confidence. Both seminars are based on the principles in the book, Pricing with Confidence: 10 Ways to Stop Leaving Money on the Table, written by Holden Advisor co-founders Dr. Reed Holden and Mark Burton.
"These are really the first seminars of their kind that bring warring tribes together," stated Dr. Reed Holden, seminar co-creator. "Sales and marketing often have a contentious relationship and conflicting goals. These two training seminars make it obvious how the two functions can work together towards the same, unified goal: increased revenues and profits."
The Pricing with Confidence training seminar gives managers the tools to set prices to fairly reflect value, prepare for tough negotiations and successfully close profitable deals by following 10 clear pricing rules. The training is geared to a cross-functional audience and works to end feuding among marketing, sales, and pricing functions and highlight the critical link to the company's financial goals. At the end of the training, managers will understand their role in successful pricing, how to give salespeople total confidence in negotiations with customers, and how to compete with competitors in smart new ways.
The Selling with Confidence training prepares business-to-business salespeople for success in an environment marked by commoditization, pricing pressures and complex sales situations. Sales people will learn to anticipate customer's likely buying behavior and confidently apply the right offering, the right value proposition and negotiating technique to overcome price-oriented reactions from the buyer's side.
"What makes this sales training different is that so many other sales trainers offer a complicated process with lots of detail that sales people will not use in the heat of price negotiations with customers," says Mark Burton, seminar co-creator. "Our training gives sales the right information at the right time resulting in a sales force that is confident in price negotiation."
For more information on the training seminars and Holden Advisors, please see http://www.holdenadvisors.com . For more information on the book Pricing with Confidence, please see http://www.pricingwithconfidencebook.com. The book is currently available for sale at Amazon.com and Barnes&Noble.com.
About the Seminar Leaders
Dr. Reed K. Holden is Founder of Holden Advisors. He consults to senior executives in Fortune 500 companies, and runs targeted sessions with management teams to jump-start change in go-to market strategies to improve profitability. For recent thoughts and comments and an opportunity to speak with Dr. Holden, please see his blog.
Mark Burton is co-founder, vice president for Holden Advisors. As a formulator of the firm's project methodologies and analytical processes, Mark is the driving force in creating offering and pricing strategies for companies that are forging new markets ahead of the competitive curve. Mark also delivers Pricing with Confidence seminars to sales, marketing and product executives. For recent thoughts and commentary on current business events, please see Mr. Burton's blog.
About Holden Advisors
Holden Advisors is a pricing strategy consultancy and training firm that works with marketing, sales, pricing, and finance executives to improve clients' offerings, pricing, and sales processes to fuel strong profit and revenue growth.
###