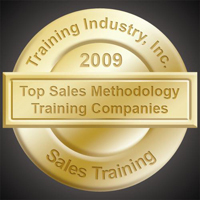 Sales training is more important than ever given the economic conditions we are facing. As companies struggle to maintain profits they will need to cut expenses and/or increase revenues
Incline Village, NV (PRWEB) February 6, 2009
The Sales Training Community, a community of Training Industry, frequently reviews, conducts assessments and surveys sales training companies that provide services to the corporate and government market. The Top 20 list is intended for buyers of training services to help them in their evaluation and procurement of training partners, according to managing director, Susan Niemchak.
"The Top 20 list recognizes the leading Sales Training companies for their high quality of services, comprehensive capabilities and successful and proven training deployments," Niemchak writes in her online announcement (http://www.salestrainingindustry.com ).
Evaluation of training companies for the Top 20 list was based on The Sales Training Community's Vendor Selection Capability Model. This model defines 12 differentiating capabilities including areas such as experience and success in the market, geographic reach, strength and success of existing clients, breadth of resources, talent and leadership of staff, assessment and ROI indicators utilized in the training process, recognition as thought leaders in the market and utilization of technology. 
"Sales training is more important than ever given the economic conditions we are facing. As companies struggle to maintain profits they will need to cut expenses and/or increase revenues," Niemchak writes. "This is going to place more emphasis on sales professionals having the skills and processes to maintain customer relations, identify selling opportunities and having the ability to up sell into current customers." 
"It's always an honor to be recognized by the thought leaders in your field," said Tim Riesterer, CMO and SVP of Strategic Consulting at Corporate Visions. "The stringent criteria used in the evaluation makes this recognition prestigious because it emphasizes the results our clients achieve and the dedication in every department of our company to serving those customers."
About Corporate Visions Inc.
Corporate Visions helps companies differentiate themselves from their competitors, where it counts, their customer conversations. The Corporate Visions Customer Message Management™ system helps companies create, deliver and deploy messages, tools and training as part of an integrated process. Corporate Visions works with globally recognized companies such as MasterCard, ADP, IBM, GE Healthcare, Oracle, Xerox, CA and many more. For more information contact us at http://www.CorporateVisions.com or by calling 775-831-1322 or 800-360-SELL.
Corporate Visions is a registered trademark of Corporate Visions Inc.
###