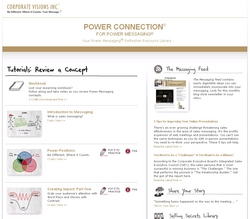 These techniques have been proven to dramatically improve selling performance, when applied consistently in sales cycles. The key for sales people is remembering exactly how and when to use them
Incline Village, NV (PRWEB) September 2, 2009
Even the best training begins to fade over time. What if your sales people could get just-in-time, online access to multi-media refresher tutorials that reinforce the concepts they learned in their initial sales training?
Corporate Visions announces the launch of Power Connection™ for Power Messaging® - consisting of 16 brief, interactive modules (5-15 minutes, each) based on the core techniques taught in the award-winning Power Messaging sales conversation training course.
"These techniques have been proven to dramatically improve selling performance, when applied consistently in sales cycles. The key for sales people is remembering exactly how and when to use them," says Tim Riesterer, CMO and SVP of Strategic Consulting for Corporate Visions. "Power Connection takes the concepts from the classroom and brings them to life at the exact moment the sales person needs them."
In addition to the multi-media refresher modules, Power Connection contains a library of quick-hitting messaging tips, insights, ideas and examples; with new content added every month. And, with their Power Connection subscription, your salespeople have access to Corporate Visions' messaging experts who are available for virtual, live coaching sessions.
"If you have a big presentation, proposal or pitch…imagine the impact of receiving comments and coaching from the experts who invented the selling techniques," Riesterer says.
Power Connection is an annual subscription service available to Power Messaging clients.
A demo is available for those who wish to find out more.
http://www.brainshark.com/cvi/powerconnectiondemo?tx=pr
About Corporate Visions Inc.
Corporate Visions helps companies differentiate themselves from their competitors - where it counts, with messaging that converts prospects to customers. The Corporate Visions Customer Message Management™ system helps companies create, deliver and sustain messages in a way that creates a differentiated customer experience at the point of sale. Corporate Visions works with globally recognized companies such as MasterCard, ADP, IBM, Volvo Trucks, CA and many more. Corporate Visions provides marketing and sales messaging, tools and training products and services. For more information contact us at http://www.CorporateVisions.com or call 775-831-1322 or 800-360-SELL.
###