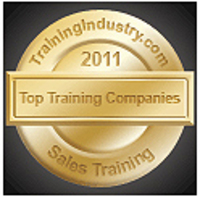 Doug Harward, CEO Training Industry, Inc., said, "These companies are the best of the best for improving your company's top line by enhancing the effectiveness of your sales organization."
Minneapolis, MN (PRWEB) March 21, 2011
Action Selling Sales Training, a creator of best-of-the-best sales training programs, sales certification, and sales development learning systems, was named a top 20 sales training company for 2011 by Training Industry magazine.
Selection to this year's Top 20 Sales Training Companies was based on the following criteria:

Breadth and innovation in services and delivery methods offered
Industry recognition and impact on sales training industry
Strength of clients served
Geographic reach and participants trained
Company size and growth potential
Doug Harward, CEO Training Industry, Inc., said, "These companies are the best of the best for improving your company's top line by enhancing the effectiveness of your sales organization."
About Action Selling
Action Selling, also recognized by Training Industry's 2009 Top Sales Methodology Training Companies, helps companies from all types of industries create sustained business growth by teaching them the Action Selling Process. This selling process is an easy-to-follow road map that shows salespeople how to sequence their sales presentations to follow the decision-making process of the buyer while using selling skills that move the sales process forward. When salespeople use the Action Selling Process the results include a consistent increase in sales success, shorter sales cycles, protected margins and increased customer loyalty.
"The significance of this award is that it measures a company's growth in our sales development and training industry. Since we are the fastest growing Sales Training company, customers are showing a strong preference for our Action Selling product line" says, Duane Sparks, CEO of The Sales Board, Inc. and creator of Action Selling.
Firmly rooted in research, Action Selling directly links sales training to peak sales performance through sales skill development, sales skills assessments and measurement, online sales training, reinforcement, field skill transfer and sales certification systems. Action Selling has dramatically increased sales productivity for more than 3,000 companies and over 350,000 salespeople worldwide through Action Selling sales training and Sales Certification Programs.
###