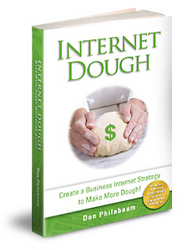 Internet Sales and Marketing Strategies to Increase PROFITS in a Down Economy
Akron, OH (PRWEB) October 16, 2008
The Internet is offering businesses of all sizes proven methods to automatically fill their pipeline, but few business are taking advantage of them. According to Don Philabaum, President of Internet Strategies, "Most sales and marketing professionals know they need to do more Internet marketing, but they don't know where to get started."
A Webinar entitled, "Internet Sales and Marketing Strategies to Increase PROFITS in a Down Economy" provides proven Internet strategies and best practices that will eliminate this sense of confusion. Registration is limited and available now at http://www.internetstrategiesgroup.com/business
The Webinar will present an easy to adopt methodology that not only shows busy sales and marketing professionals how to create a successful Internet marketing strategy, but also show how to integrate it with their traditional marketing.
Philabaum who began building online communities in 1995 for alumni associations and non profits around the world, developed the methodology after doing research for his book, Internet Dough. The book identifies dozens of proven techniques businesses are using to fill their pipeline and help their sales people close leads at lower cost, faster and with less effort.
According to Philabaum, "Sales and marketing executives today need a more holistic marketing system that includes existing disciplines, but also injects proven social media, online community and Internet strategies. The right strategy will enable marketers to amplify word-of-mouth marketing which will increase lead generation, retain and engage customers while at the same time decreasing marketing, PR and advertising costs!"
Attendees of the Webinar will learn Internet marketing strategies, how to use email marketing and personalization techniques to deliver content. Philabaum will share how other sales and marketing organizations are using video, podcasts, blogs, online community and other social media to generate and close leads. Attendees will also learn how social networking sites like Facebook and business networking sites like Linkedin can offer a new low cost marketing channel to get your message out more quickly.
Philabaum reminds sales and marketing professionals, " The Internet is offering repeatable, measurable and predictable lead generation opportunities for companies everywhere. Continuing to send a sales person in a 2,000 pound automobile for a couple of cold calls - is insane! Carefully integrated traditional, plus Internet and marketing strategies will increase sales efficiency, shorten the sales cycle, reduce the cost to acquire customers and of course increase profits."
Companies who are interested in making their business fun again, who want to retain their market share and acquire new business with less costs are encouraged to attend this Webinar - before competitors figure this out.
Participants will walk away with 12 proven Internet strategies they can implement within 30 days to increase the leads in their funnel. All attendees will receive a PDF copy of the book Internet Dough and the report, "Protecting Your Distribution Channel in a NET-Centered World".
Registrations are limited and available on a first come basis at http://www.internetstrategiesgroup.com/business.
Call Phyllis at 800-805-9413
###