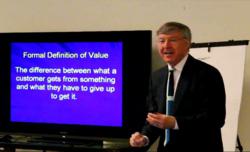 The more accurately a sales force reads the customer, the better the decisions they make to help them close the sale more often.
(PRWEB) December 04, 2012
First Concepts Consultants, Inc. just released its latest findings based on twenty seven years of field research about why customers say yes or no. These discoveries focus on how customers figure out their perceptions of value and what causes that value to rise and fall. According to First Concepts, these new insights help a sales force more accurately interpret what they are learning from customers and make better decisions about what they do next to close the sale.
"No matter how good a quarterback's talents, skills, practice and playbook knowledge, unless they can accurately read the defense and make the best split second decisions based on that, their team won't move the ball forward. The same is true for salespeople. No matter how talented, skilled, trained and experienced they are, unless they can accurately read the customer and make the right split second decisions about what to do next, they won't close the sale. Our discoveries about customer value and how customers think help even a top producing sales force to read their customers better" according to Don Shapiro, President of First Concepts, who conducted this research.
Don Shapiro traveled with hundreds of salespeople observing them in front of prospective customers, interviewed those prospects and interviewed these salespeople. In addition, he has had over 3000 salespeople call on him as a buyer. After twenty seven years of observing customers and salespeople, he has made several discoveries about the way customers think out a decision to buy and what affects whether they say yes or no.
"The key to close the sale is to raise the customer's perceptions of value as high as possible. People buy when their perceptions of value are high. As their perceptions of value drop, they are more likely to say no. From our observations, even top ranked salespeople misinterpret what customers say sometimes and fail to address all the value issues that will affect a prospect's decision. Any sales force can boost their performance by improving how accurately they interpret what they learn from customers" states Revenue Detective Shapiro.
First Concepts is now offering sales force education in as many different industries as possible about these new discoveries through speeches, seminars and workshops delivered by Don Shapiro. The firm wants to track how salespeople apply these discoveries and how much their sales increase to finalize the research results and release a book titled "Find The Stealth Value To Increase Your Sales." Don Shapiro has also written several blogs about his sales discoveries.
ABOUT DON SHAPIRO Don Shapiro is President and founder of First Concepts Consultants, Inc., a sales, marketing and management advisory practice that has helped firms in over 30 industries since 1985. As a Revenue Detective, he investigates ways to help firms increase their sales, margins and market share and has made several discoveries about why people buy, perceptions of value and the customer buying process. For more than 30 years, Don has helped people learn, laugh and leave inspired through his customized speeches, seminars and training programs on sales, service, leadership, strategy and choices.