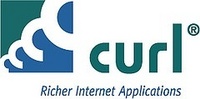 The Curl Sales Force Dashboard application is another great example of the rich client visualization capabilities of our Curl Nitro Beta
CAMBRIDGE, Mass. (PRWEB) October 1, 2008
Similar to the other recently released demo applications by Curl – the timeline viewer and the CurlGraph – the Curl Sales Force Dashboard application is an example of the enhanced desktop Rich Internet Application (RIA) capabilities offered by Curl's next version of the Curl RIA platform. Curl simplifies the process of installing and managing Curl applications accessed via a browser as well as directly from the desktop. It is the only platform for both traditional RIA and desktop RIA that provides enterprise-level security, high performance and support for large data sets.
The underlying data of the Curl Sales Force Dashboard is obtained from a subset of standard Salesforce.com data, which can then be sensibly transformed, aggregated and presented by the Curl client application. As a result, the demo application illustrates several important aspects of rich client data visualization including:
Local Data Storage – Stores application data locally using SQLite, allowing rich clients to leverage the computing power of the client machine, minimizing the latency associated with wire transfers; Client-side Computation and Presentation – Leverages the power of today's client machines to perform simple and complex data transformations and aggregations and then presents the data in an appealing way; Specialized Display Components – Uses custom components along with several standard Curl display components, built specifically for this dashboard with relatively few lines of code; Flexible User Interface – Offers users flexibility with features such as the layout, styling, visual feedback and drilldown as applied to their data. The extent of flexibility in these aspects is governed by the designer of the application, not the technology used to build it. "The Curl Sales Force Dashboard application is another great example of the rich client visualization capabilities of our Curl Nitro Beta," said Bert Halstead, chief architect, Curl, Inc. "This application illustrates how a task-oriented visualization design can be implemented in Curl with no compromises, resulting in a coherent, highly functional business tool."
The Curl Sales Force Dashboard application is an extension to a popular software as a service application, Salesforce.com, through the use of standard AppExchange APIs that can be repurposed to any type of sales force application. For details on how the Curl Sales Force Dashboard application works as well as how to download it, visit the Curl Developer Center, which contains all the source files used to build the application and instructions on how to modify it to create variations.
Multimedia: Curltech flickr page, Curltech photobucket page
Technorati Tags: Curl, RIA, Rich Internet Application, Enterprise 2.0
Suggested Links: Submit to Digg, Curl, Inc.'s Del.icio.us page, Post to Slashdot, Curl Sales Force Dashboard
About Curl, Inc.
Curl provides a Rich Internet Application platform for building and deploying Web-based applications that demand complex, highly interactive interfaces previously only possible as client-server applications. Using Curl, developers can implement a new class of complex, business-critical, Web-based applications that cannot easily be developed with Ajax or other smart client technologies. Curl allows corporations with legacy client-server applications to move to Web-based delivery, increasing reach and reducing cost. Founded in 1998, Curl is headquartered in Cambridge, Massachusetts and is a wholly owned subsidiary of Sumisho Computer Systems. Curl has over 300 customers and 40 partners world-wide. For more information visit http://www.curl.com.