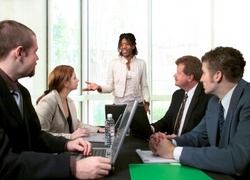 Losing the fear of presenting can be a major career booster. The transition from 'I can't!' to 'Yes, I can!' is what inspires any audience.
(PRWEB) April 7, 2009
Mill Valley, Calif. -- Giving a presentation might be one of the most daunting tasks faced by any sales professional. But now learning presentation skills is a breeze. The Presentation Storyboarding System focuses on fast and easy presentation skills training, utilizing the unique strengths of every presenter. Visual strategies enable any sales professional to communicate and inspire any audience. No surprise considering that the majority, 80% of the population, prefers to learn with pictures.
Thomas Sechehaye, founder of Presentation Storyboarding, has trained thousands of sales professionals in this system. He comments: "Losing the fear of presenting can be a major career booster. The transition from 'I can't!' to 'Yes, I can!' is what inspires any audience."
What little children know, research has now confirmed with hard evidence. The human brain processes information much faster when pictures balance a written message. The key concept behind storyboarding is that visual images boost learning and streamline decision-making, dramatically faster than written words. With storyboards, business owners, sales professionals and entrepreneurs learn how to unlock the power of visual persuasion - with any audience.
For the first time ever these unique and essential business skills are available to the public. Previously only available to high paying customers and Fortune 500 clients, this system is now available for anyone who wants to master presentation skills.
Presentation Skills Training does not have to be boring! This site offers self-study courses, DVD's, 1-minute videos, audio tips, and at-a-glance cartoons. This wide media choice provides colorful engagement for quick and simple learning by any sales professional. Many of these visual resources teach new presentation skills in less than 3 minutes. http://www.presentationstoryboarding.com offers a complimentary e-course on presentation design. 5 easy steps to cut presentation design time by 50%. It is available here http://www.presentationstoryboarding.com/free-stuff.html.
The site offers several ways of learning. One of them is the newly branded at-a-glance-comic. Call this a "Dilbert" approach to presentation skills training. YouTube style informal learning is offered in the extensive complimentary video gallery featuring "Authentic Presenting: What is it?"
Presentation Storyboarding's main office is located in Mill Valley, CA. Contact them directly to arrange interviews and find out about resources, public trainings and in-house trainings of their cutting edge presentation skills for any sales professional.
Contact:
Thomas Sechehaye, Director of Public Relations
Presentation Storyboarding
415-279-7314
http://www.presentationstoryboarding.com
###