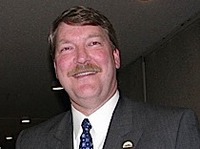 The Concord City Council has done extensive outreach this year as we've worked to close our structural deficit
Concord, CA (Vocus) July 21, 2010
Halfway To Concord, the leading independent political news site covering California, Contra Costa, and East Bay politics, announces it will host Guy Bjerke, Mayor of Concord, California, at an online Town Hall to discuss a proposed new Sales Tax. The Town Hall will be held Sunday evening, July 25, from 7:00 to 8:00 p.m.
Visit http://www.halfwaytoconcord.com to participate.
Mayor Bjerke will lay out the current status of the City of Concord's finances and current thinking of City leaders on the need to find new revenue to forestall more cuts to city services. Bill Gram-Reefer, Editor and Publisher of Halfway To Concord, will serve as host and moderator to facilitate an open discussion concerning whether or not Concord should move ahead with a temporary new tax or not.
"The Concord City Council has done extensive outreach this year as we've worked to close our structural deficit," explained Mayor Bjerke. "This Town Hall chat is one more way for residents to let us know whether they want the opportunity to choose a temporary tax over further budget cuts."
"The Town Hall 'Chat with Mayor Bjerke' represents perhaps the last opportunity for an open and public discussion of city budget and revenue options before City Council takes action on a proposed sales tax," noted Gram-Reefer. "City Council may take up the issue as soon as its July 27 meeting."
August 6 is the deadline for municipalities to file local measures to appear on the November 2 ballot in Contra Costa County.
Halfway To Concord selected Envolve as the best tool available for connecting people online in real-time. Envolve delivers a great user-interface that allows users to chat about the topics that matter.
"Envolve allows site visitors to start their own chats as well as private one-on-one chats, and create profiles," explained James Tamplin, Co-Founder of Envolve. "We are proud to be the chat platform for the upcoming Town Hall 'Chat with Mayor Bjerke' at Halfway To Concord."
Founded in 2004, Halfway To Concord is the leading independent political website serving Contra Costa County and northern California's East Bay. Halfway To Concord covers California politics, as well as regional and local campaigns and elections. Visit Halfway To Concord at http://www.halfwaytoconcord.com
# # #