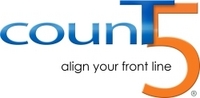 With this economy, companies must be agile to remain competitive. Q helps companies drive change more quickly and predictably than before by eliminating message distortion at the front lines
Atlanta, GA (PRWEB) April 1, 2009
Count5 announced today that 100% of its customers have renewed 2009 subscriptions for its Workforce Alignment tool. 2008 saw Count5's active user base triple from existing client expansion as well as from several new Fortune 500 additions. 100% renewal is not typical for Software-as-a-Service (SaaS) vendors like Count5 - and this high renewal rate emphasizes the importance of tools that help employees adopt relevant changes in sales, service, CRM and other change strategies and initiatives.
Count5, named by the Technology Association of Georgia (TAG) as one of the state's most innovative technology companies, has signed company-wide contracts with several marquis clients this year including Coca-Cola Food Services, Cbeyond, Great West Healthcare (now part of Cigna), ARRIS Group, and a Fortune 100 global payments, network and travel company.
Count5's patent pending software tool, called Q, is a "push communications" tool that automates ongoing reinforcement with front line employees and that measures employee alignment with change. Q provides a "people strategy" for organizational change initiatives by delivering the knowledge support, focus and reinforcement employees need to change behavior while providing executives early indicators so misalignment can be identified and fixed proactively.
"With this economy, companies must be agile to remain competitive. Q helps companies drive change more quickly and predictably than before by eliminating message distortion at the front lines," Adds Eric Blumthal, Count5 CEO. "Q improves the success rate of these change initiatives by adding layers of support, accountability and metrics that never existed before."
About Count5: Count5 sells workforce alignment software that improves speed2revenue by helping companies drive change faster, more predictably & more efficiently than alternative methods. Count5's patent pending software tool, called Q, is a "push communications" tool that automates ongoing reinforcement with the front lines and that quantifies user participation and understanding of change. To senior sales & operations executives, Q improves speed2revenue by making people more accountable for change. To sales operations, training and marketing professionals, Q fills critical gaps in front line communications, training and support efforts - and Q does all this with far less customer resources than alternative methods. Count5 customers are typically B2B companies with large field sales/service operations.
Count5® was recently named by the Technology Association of Georgia (TAG) as one of Georgia's most innovative technology companies. Call 404.961.7350 Ext 1, visit the Count5 Website or visit Count5's "alter ego" website Q Toons Website
###