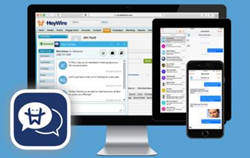 Sell smarter & create better customer relationships with 2-way SMS texting!
Cambridge, Massachusetts (PRWEB) February 10, 2016
HeyWire®, a leading enterprise mobile messaging company that enables businesses to deliver the future of sales productivity today, announced it has launched HeyWire Business Messenger on the Salesforce AppExchange, empowering salespeople to connect with prospects, customers and partners in a whole new way.
HeyWire Business Messenger helps sales and service people improve close rates and increase customer satisfaction using the increasingly preferred communication channel – text messaging. With more than 40 percent of today's business professionals already regularly using SMS with customers and partners, HeyWire helps salespeople add conversational texting to their toolkits, take control of dialogues with customers, and easily retain them in Salesforce activity records, as well as in HeyWire's secure cloud messaging platform, with one tap.
The Business Messenger app allows salespeople and businesses to fully embrace texting for customer communication, improving the customer experience and employee productivity, while assuring compliance with business requirements. Customers can now text you using the phone numbers they already know.
Built on Salesforce App Cloud, the social, mobile and cloud customer platform built to transform sales, service and marketing, HeyWire Business Messenger is currently available on the AppExchange at http://www.appexchange.com.
"Built for Business" Messaging Features for Salesforce Mobile Salespeople
HeyWire Business Messenger, available for iOS and Android, allows sales and service people to text from their phones or tablets using their business phone numbers. Integrated with Salesforce, sales and service professionals can easily and safely text with customers, enabling better interactions 'in the moment' – from wherever they are. Key benefits and features include:

Use your existing business phone number
Easily text to Salesforce leads & contacts
Auto-identify existing leads & contacts when receiving texts
Retain text conversations in Salesforce with one tap
Quickly link to Salesforce1 mobile app to access & upgrade records
Set a personal signature and auto-reply
Lock your app with TouchID or Passcode to keep messages safe
Text from your desktop, tablet, phone, or Apple Watch
Easy account authentication using secure Salesforce.com logins
Archiving of all messages in HeyWire's secure cloud messaging platform
Download HeyWire Business Messenger for Salesforce on the AppExchange at: http://heywi.re/biztextapp. HeyWire also offers a new type of contact center messaging app on the Salesforce AppExchange – HeyWire LiveText Agent – that enables text conversations between customers and contact center agents using existing business 1-800 numbers.
Comments on the News
● "According to research from Nielsen and HeyWire, respectively, text messaging is the No.1 activity on mobile phones, and close to 50 percent of sales professionals are already texting with customers using their own devices and personal messaging plans," said Meredith Flynn-Ripley, CEO at HeyWire. "The Business Messenger app for Salesforce meets the needs of today's salespeople who want to separate their business and personal communications and need easy one-tap synching of these conversations to Salesforce – making selling easier and faster."
● "Companies are looking to transform the way they connect with customers, partners and employees to thrive in today's connected world," said Ryan Ellis, VP, Product Management, AppExchange, Salesforce. "By leveraging the power of Salesforce App Cloud, HeyWire provides customers with the proven social, mobile and connected cloud technologies to accelerate business success."
About Salesforce AppExchange
Salesforce AppExchange is the world's leading enterprise apps marketplace that empowers companies to sell, service, market and engage for the Internet of Customers. With more than 2,700 partner apps and more than 3 million customer installs, it is the most comprehensive source of social, mobile and connected cloud apps for business.
Salesforce, Salesforce1, AppExchange and others are among the trademarks of salesforce.com, inc.
HeyWire, HeyWire LiveText, and LiveText are registered trademarks of HeyWire, Inc.
About HeyWire
HeyWire provides the leading cloud messaging service for businesses that care about their mobile customer experience management—bolstering customer engagement and sales by directly connecting customers to businesses using two-way, conversational texting. The company is a pioneer in bringing texting to toll free and office phone numbers; and provides award-winning messaging apps spanning contact center agent consoles, mobile devices and the desktop. HeyWire partners with leading providers of customer service solutions, CRM and telephony products to transform customer experience and sales enablement. HeyWire's proven solution has delivered 8 billion messages and counting through its mobile messaging platform inter-connected to traditional SMS global networks. HeyWire has been recognized with CTIA's 2014 Mobile Cloud Emerging Technology Award, the AlwaysOn Mobile 100, OnCloud Top 100 and Global 100 to Watch Awards, as well as the PwC Promise Award. Visit us at http://www.heywire.com.