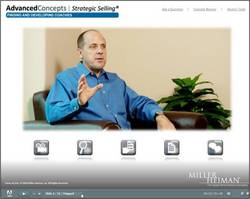 Reno, NV (PRWEB) July 7, 2010
Miller Heiman, the world's leading sales training and consulting company helping clients improve sales force performance and execution, introduces Advanced Concepts(SM) for Strategic Selling(R), a web-based multi-media platform that delivers fresh and actionable content on sales best practices to alumni of Miller Heiman's Strategic Selling(R) sales strategy development workshops.
Miller Heiman's Advanced Concepts(SM) expands upon what over a million salespeople have learned through Strategic Selling(R) while addressing the unique challenges that salespeople face in the field. Through Advanced Concepts(SM), Miller Heiman has designed the next step which builds upon the Strategic Selling(R) foundation to improve success in major opportunities and arm front-line sales managers with tools to drive results through their teams.
"Advanced Concepts(SM) for Strategic Selling(R) is designed for advanced learning to reinvigorate Miller Heiman alumni who want to jumpstart performance by honing skills already learned during Strategic Selling(R) workshops," said Sam Reese, CEO of Miller Heiman. "Many of our clients have done a great job of weathering a difficult economic environment, but true to form they are always looking to get better. Advanced Concepts(SM) for Strategic Selling(R) delivers what clients have requested - a system to address the challenges that occur and continue to improve even in the most difficult market conditions," he added.
Backed by more than 30 years of experience, Miller Heiman's Advanced Concepts is a platform that makes it easy, timely and impactful for salespeople to continue learning and improving their craft. Salespeople can choose the materials that best suit their learning styles. Alumni of Strategic Selling(R) can view online videos, white papers, animated and audio-backed slide shows featuring Miller Heiman consultants and executives sharing their expertise and practical advice. Each module includes downloadable "Back of the Napkin" exercises to quickly digest and immediately implement Miller Heiman's sales best practices.
Once a month, for six months, Advanced Concepts(SM) for Strategic Selling(R) users receive an email with links to field-focused content with precise, actionable examples and advice for every sales team member to navigate various difficult selling situations. Sales managers also receive coaching to help their teams consistently drive more deals and improve client relationships. After completing each module in 25 minutes or less, sales teams and their managers can access the online content throughout their year-long subscription.
"Advanced Concepts(SM) for Strategic Selling(R) exemplifies Miller Heiman's pragmatic approach to achieving success in a complex sales environment," explained Reese. "Our mission is to help salespeople facilitate their clients' decision-making process; our approach helps salespeople build long-term relationships rather than trying close and run. The methods and disciplines in Advanced Concepts(SM) for Strategic Selling(R) reflect our quest to continuously improve best practices for the sales profession," said Reese.
For more information about Advanced Concepts(SM) for Strategic Selling(R) , please go to http://www.millerheiman.com/advanced-concepts.
About Miller Heiman
Miller Heiman is the proven leader and innovator in sales execution, with more than 30 years of helping businesses grow profitable sales by increasing their close rates, lowering the cost of sales and reducing the length of the sales cycle. The company's common framework of easily repeatable methodologies, combined with a tradition of research and thought leadership, helps firms of all sizes win complex sales. Miller Heiman is a worldwide leader in sales performance, with programs in 20 languages and corporate offices in the United States, the United Kingdom and Australia. For more information, visit http://www.millerheiman.com.
# # #