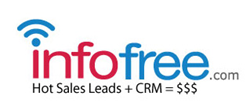 We absolutely will recommend infofree.
(PRWEB) July 01, 2014
Infofree.com, the leading provider of sales leads, mailing lists and email lists recently received a very positive review from Sun Communications, Inc. The company switched to infofree.com from competitor Salesgenie for better overall service.
Greg Schneider, CEO of Sun Communications, Inc., switched his company to infofree.com in January, 2014. He finds tremendous value in infofree.com's easy to use navigation, flat pricing model and CRM offered to infofree.com subscribers.
In his Salesgenie review, Schneider praised infofree.com's contact manager offered at no additional cost. CRM101 is a powerful tool that allows users to manage their prospects and sales leads as they turn them into customers.
Sun Communications, Inc. uses CRM101 to increase sales representative productivity. The tool allows sales representatives to track their leads, take notes and call active leads and prospects. All of these actions can be organized in the CRM to increase sales efficiency. The tool allows more categories than Sun Communication's, Inc. has seen in other contact managers.
"Infofree has enabled me to drill into specific industries that I am targeting for a reasonable price point with the additional flexibility of having a built in CRM," Schneider said. "We absolutely will recommend infofree."
Sun Communications, Inc. is a business technology and service organization that works with businesses on a variety of functions. The organization continues to use infofree.com to find prospects.
Infofree.com is a subscription based service that offers sales leads, mailing lists, email lists and CRM101. To grow your business with infofree.com, go to http://www.infofree.com.
About Us: Infofree.com™ is revolutionizing the sales lead and mailing list industry by providing unlimited search, select and view of over 15 million business records, 250 million consumers and hundreds of other specialty databases for the low, flat price of only $59.95 per month or $599.50 per year. Reach new homeowners, new movers, newlyweds, new businesses and much more!