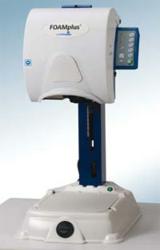 This is a great alternative to larger foam-in-place packaging systems that require chemical drums or solvents and have a large warehouse footprint.
Fairless Hills, PA (PRWEB) November 22, 2011
ISC Salesmaster Corporation., a supplier of packaging products and equipment throughout the Northeast, has announced a new product in their line of packaging systems, the FOAMplus Mini System from Storopack. This lightweight void fill packaging system provides an affordable foam-in-place solution for users with low to medium volumes.
"The FOAMplus Mini System provides superior protection for packages at a minimal start-up cost," said Tom Northrop, sales manager at Salesmaster Corporation. "This is a great alternative to larger foam-in-place packaging systems that require chemical drums or solvents and have a large warehouse footprint. This system's lightweight, table-top design allows for easy transportation between departments or locations."
The FOAMplus Mini System is a complete stand-alone work station that dispenses foam into a bag. The system uses a self-mixing chemical component pack that is placed inside the dispensing compartment. The two liquid components mix and react to form a (H)CFC-free polyurethane foam inside of a film, which expands around the packaged item to create a custom fit cushion. When the film is placed into the box, it expands up to 280 times its original size in the closed environment filling any remaining void to hold items in place, absorb shock in transit, and protect fragile products. The foam also acts as a wrap to protect the outside of the product from surface damage.
The FOAMplus Mini System was designed for the low to medium user with predetermined volume settings and only two moving parts. The system has no solvents, chemical drum changeover or disposal to worry about. Its 110v power source is helpful when relocating around facilities. In addition, the predetermined and manual volume settings on the FOAMplus Mini System allow for small, medium, large, and tube containers, while the optional molding station allows users to create custom dimension foam cushions.
"The FOAMplus Mini System makes foam-in-place packaging more accessible and affordable for a larger number of packaging applications," said Northrop. "It now is a realistic option for lower volume users looking to upgrade from air pillow, paper, or Styrofoam peanut packaging void fill."
Salesmaster's experienced personnel can assist in selecting the appropriate packaging solutions to fit your business needs. The FOAMplus Mini System is available for quick delivery. For more information call 215-295-2300 or visit salesmastercorp.com.
About ISC Salesmaster Corporation:
ISC Salesmaster Corporation is a supplier and distributor of packaging and shipping materials, packaging machinery and equipment, material handling products, and janitorial and safety supplies in Eastern Pennsylvania. Since 1970, Salesmaster Corp. has provided industry with products from the most trusted names in the business including 3M, BestPack, Polyair, Shurtape, Wulftec, Storopack, Strapack, and more.
FOAMplus is a registered trademark of Storopack
###