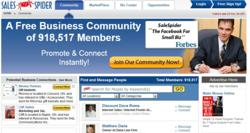 SaleSpider's business directory after three months now features over 12 million US business listings!
Toronto, Ontario, Canada (PRWEB) January 05, 2012
SaleSpider.com, a business networking site, upgraded its site over the holidays to include easier searching and quicker reporting in its marketplace and community section, and will upgrade the business center, job center and profile section to ensure maximum value to its members.
Exciting upgrades will be released every few weeks in the first quarter. New tools focused on connecting and business networking, and daily opportunity matching will be expanded on multiple devices.
The last quarter witnessed the launch of SaleSpider's business directory that after three months now features over 12 million US business listings. SaleSpider will continue to enhance its site with similar modifications to cement its position as the go to social network for entrepreneurs and businesses.
About Sales Spider:
SaleSpider Media is a leading digital media company. We own multiple properties that offer online advertising solutions to both b2b and b2c advertisers and direct marketers. Clients range from small to medium businesses to Fortune 1000 companies and their media agencies.
SaleSpider Media's publications and media brands include:

SaleSpider.com - Over 900,000 Small & Medium Business Owners & Executives.
AdShare Display Network - B2B & B2C Performance Display Targeting
AdShare Email Marketing Services - Over 10 million B2B & B2C Opt-Ins.
SaleSpider Media's primary property is SaleSpider.com, the largest Small Business Social Network in the US. We are the Facebook for entrepreneurs and small business owners. We are established in media agencies and are overwhelmed with opportunities.
To Learn More about SaleSpider Media, please see SaleSpiderMedia.com and SaleSpider.com.
###