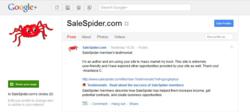 Toronto, ON (PRWEB) January 19, 2012
SaleSpider.com released Google+ pages today describing its social network for small businesses and entrepreneurs. The salespider.com business networking site offers its members messaging, and networking and is home to over 1 million members. The network is unique in that it also offers members daily matching to opportunities based on their preferences.
These Google+ pages include SaleSpider Marketplace, SaleSpider Job Board, and SaleSpider Business Directory. On these pages, users will find everything they need to know about these areas on SaleSpider.com as well as updated daily information.
Other pages are focused more on income opportunities such as the SaleSpider Opportunity page which posts about sales leads and contracts or the SaleSpider Job Board which posts updated jobs every day.
These pages will feature weekly postings from the site that will include industry articles, business tips and resources and daily new classified ads being posted on the site. The content will always be fresh, new and exciting!
About Sales Spider:
SaleSpider Media is a leading digital media company. We own multiple properties that offer online advertising solutions to both b2b and b2c advertisers and direct marketers. Clients range from small to medium businesses to Fortune 1000 companies and their media agencies.
SaleSpider Media's publications and media brands include:

SaleSpider.com - Over 900,000 Small & Medium Business Owners & Executives.
AdShare Display Network - B2B & B2C Performance Display Targeting
AdShare Email Marketing Services - Over 10 million B2B & B2C Opt-Ins.
SaleSpider Media's primary property is SaleSpider.com, the largest Small Business Social Network in the US. We are the Facebook for entrepreneurs and small business owners. We are established in media agencies and are overwhelmed with opportunities.
To Learn More about SaleSpider Media, please see http://www.salespidermedia.com and http://www.salespider.com
###