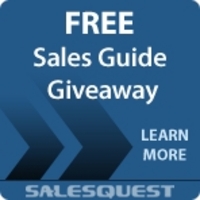 SalesQuest is committed to helping our high tech customers build sales pipeline and accelerate sales opportunities in a tough selling economic climate
Lawrence, MA (PRWEB) April 14, 2009
SalesQuest®, ranked #255 on the Inc. 500 of the fastest growing companies nationwide, announces the availability of three new free sales tools for enterprise technology sales and marketing reps. In addition to the free Guide on Selling to the Big Fortune 1000 Companies, SalesQuest published:
Free Account Plan Template -- Forty page outline to help map account development strategies, tactics, goals and objectives.
Free Sales Intelligence RFP Template -- Twelve page guide to ask all of the questions you need answered to make the best and most informed decision on a new sales intelligence vendor.
Free Top 10 Things Technology Buyers Don't Want Sales Reps to Know -- Ten page whitepaper revealing the top ten insights from Fortune 1000 IT decision makers who are purchasing technology solutions in 2009.
"SalesQuest is committed to helping our high tech customers build sales pipeline and accelerate sales opportunities in a tough selling economic climate," said Mimi Evans, SalesQuest CEO. "As we continue into 2009, we want our customers to view us as a strategic resource to help them in their account based marketing initiatives and their strategic account planning efforts, which is what led us to create and publish these free downloadable documents to complement our Fortune 1000 CRUSH Reports."
About SalesQuest®:
SalesQuest's® CRUSH Reports™ are deep dive profile reports on Fortune 1000 companies that feature IT architectures, strategies, org charts, contact info, and insights to budgets, projects, and initiatives. Together with CRUSH Alerts™, an email based sales trigger alert tool to track prospects, customers, and competitors, CRUSH Reports deliver accurate, up-to-date, complete and timely Fortune 1000 account intelligence for high tech sales reps. SalesQuest helps their customers eliminate research time, accelerate sales cycles and make an immediate positive impact on their sales revenues.
###