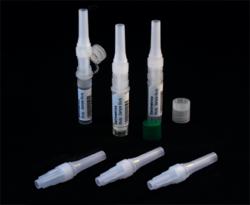 State College, PA (PRWEB) October 11, 2012
A PCT patent application has been submitted by SalivaBio, LLC and Johns Hopkins University for the Saliva Collection Aid (SCA), a medical device used for the collection of whole saliva directly into cryovials for storage. This device was developed by Douglas A. Granger and Hans Schroeder of SalivaBio, LLC, in collaboration with the Center for Interdisciplinary Salivary Bioscience Research at the Johns Hopkins University School of Nursing. The Saliva Collection Aid may be purchased directly from Salimetrics.
A recent hands-on demonstration at saliva-research based training sessions provided positive responses from over 110 researchers who tested the device. 99% of the researchers confirmed that the SCA would improve sample collection for their participants. The overall consensus focused on the ease of use, which reduces participant burden (thus increasing participant compliance) when compared with the past methods.
In addition to ease of use, the Saliva Collection Aid has a number of other important features:

Individually packaged in a clean, foil pouch
Collect any biomarker
Vented design helps avoid sample foaming
Constructed of polypropylene to avoid analyte retention or sample contamination
Universal fit with common external thread cryovials
Allows sample collection directly into cryovials in the field, no need to transfer samples after collection
One-time use and dispose
Ready-to-go instructions
About Salimetrics:
Founded in 1998, Salimetrics, LLC supports researchers, the immunodiagnostic industry, and functional testing laboratories around the world with innovative salivary immunoassay products and services. Salimetrics' assay kits and CLIA-certified testing services measure biomarkers related to stress, behavior and development, inflammation, and immune function, including: alpha-amylase, androstenedione, blood contamination, chromogranin A, cortisol, cotinine, C-reactive protein, DHEA, DHEA-S, estradiol, estriol, estrone, IL-1b, IL-6, melatonin, progesterone, 17α-hydroxyprogesterone, secretory IgA, testosterone, and TNF-a. Salimetrics also provides salivary DNA analysis. The company is based in State College, Pennsylvania, with offices in the UK and distributors around the world. For more information, visit Salimetrics on the web at http://www.salimetrics.com.