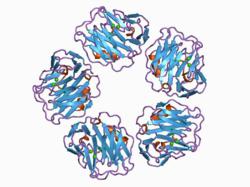 This finding suggests that salivary CRP has the potential to be valuable as a non-invasive screen for systemic inflammation.
State College, PA (PRWEB) March 20, 2012
A new article published online in the scientific journal Brain, Behavior, and Immunity has investigated the association between systemic inflammation and measurements of C-reactive protein (CRP) in saliva.
CRP is one of a number of blood proteins whose levels are elevated in the presence of inflammatory conditions. CRP is accepted as an important clinical marker of inflammation, and it is widely used in screening for cardiovascular disease. According to the guidelines of the American Heart Association (AHA), individuals with plasma CRP levels of 3 mg per liter or higher are at risk for the development of the disease. This study adds to a growing body of research that suggests that salivary levels of CRP are modestly associated with levels of CRP in blood.
In this study of an ethnically diverse group of women who had been exposed to intimate partner violence, CRP concentrations in saliva and in plasma were compared over a two-year period. The study was able to show for the first time that individual differences in salivary CRP were moderately stable over two years. And, significantly, salivary CRP was able to discriminate reliably between high and low levels of plasma CRP, using the AHA guideline of 3 mg per liter in plasma.
The ability of salivary CRP to discriminate between low and high plasma CRP levels was especially accurate for low levels of salivary CRP. This finding suggests that salivary CRP has the potential to be valuable as a non-invasive screen for systemic inflammation. Low levels of CRP in saliva may be able to serve as a reliable indication of low CRP levels in plasma and low risk for cardiovascular disease, but higher CRP levels in saliva would indicate that further risk assessment should be performed through testing of blood samples.
The salivary CRP immunoassay kit from Salimetrics has been designed to measure CRP levels in the very low range that is of interest to researchers, making possible studies such as this one that are investigating salivary CRP as a possible non-invasive substitute for plasma CRP measurements.
About Salimetrics:
Founded in 1998, Salimetrics, LLC supports researchers, the immunodiagnostic industry, and functional testing laboratories around the world with innovative salivary immunoassay products and services. Salimetrics' assay kits and CLIA-certified testing services measure biomarkers related to stress, behavior and development, inflammation, and immune function, including: alpha-amylase, androstenedione, blood contamination, chromogranin A, cortisol, cotinine, C-reactive protein, DHEA, DHEA-S, estradiol, estriol, estrone, IL-1b, IL-6, melatonin, progesterone, 17α-hydroxyprogesterone, secretory IgA, testosterone, and TNF-a. Salimetrics also provides salivary DNA analysis. The company is based in State College, Pennsylvania, with offices in the UK and distributors in Europe, Australasia, and South America. For more information, visit Salimetrics on the web at http://www.salimetrics.com.