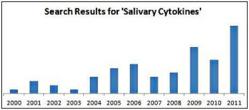 (PRWEB) July 24, 2012
Reviews of scientific literature have observed steady growth in the use of salivary measurements of molecules known collectively as cytokines. Spanning fields such as inflammatory disease, cancer, and psychology, these studies demonstrate that biomedical investigators are increasingly recognizing the value that measurements of salivary cytokines have for many research projects.
Previous investigations have indicated that cytokines work together in complex relationships, and researchers therefore often prefer to measure more than one cytokine at the same time. One recent study of this type examined the relationship of salivary IL-1β, IL-6, and TNF-α with the chronic inflammatory condition known as Crohn's disease. Also, in a recent study of the relationship of serum and salivary levels of pro-inflammatory cytokines to oral cancer and oral leukoplakia, salivary IL-1β and IL-6 concentrations were found to be higher in oral cancer patients compared to patients with leukoplakia and to healthy controls. (1, 2)
Other studies of pro-inflammatory cytokines in blood have shown that these markers are sensitive to social stress and are elevated in diseases such as depression. Salivary cytokines may therefore be of great use as non-invasive tools for psychobiological studies. (3)
A recent example of this type of psychosocial research looked at the effects of racial stigmatization on the health of minority women. In this study, saliva samples were tested for IL-6 and two important adrenal hormones: cortisol and DHEA; analysis of the saliva samples was carried out by the Salimetrics laboratory. The study found that greater perceived stigmatization was associated with higher basal levels of IL-6, while greater in-group pride was related to elevated levels of basal DHEA. (4)
Salimetrics seeks to support researchers who include measurements of salivary markers of inflammation and immunity in their studies by making available high-quality immunoassay kits and saliva collection supplies that provide better results. Salimetrics recently introduced an immunoassay kit for salivary IL-1β, and salivary assays for IL-6 and TNF-α are currently under development. In addition, Salimetrics assay kits are available for salivary C-reactive protein (CRP), a widely-used marker of inflammation, and salivary secretory IgA, a marker of mucosal immunity. For those researchers without their own testing facility, the Salimetrics Laboratory also offers CLIA-certified salivary testing services for IL-1β, IL-6, TNF-α, CRP, and SIgA, along with steroid hormones and autonomic nervous system markers.
(1) Szczeklick, K., Owczarek, D., Pytko-Polńczyk, J., et al. (2012). Proinflammatory cytokines in the saliva of patients with active and nonactive Crohn's disease. Pol Arch Med Wewn, 122(5), 200-8.
(2) Brailo, V., Vucicevic-Boras, V., Lukac, J., et al. (2012). Salivary and serum interleukin 1 beta, interleukin 6 and tumor necrosis factor alpha in patients with leukoplakia and oral cancer. Med Oral Patol Oral Cir Bucal, 17(1), e10-15.
(3) Sjögren, E., Leanderson, P., Kristenson, M., & Ernerudh, J. (2006). Interleukin-6 levels in relation to psychosocial factors: Studies on serum, saliva, and invitro production by blood mononuclear cells. Brain Behav Immun, 20(3), 270-78.
(4) Ratner, K.G., Halim, M.L., & Amodio, D.M. (2012). Perceived stigmatization, ingroup pride, and immune and endocrine activity: Evidence from a community sample of Black and Latina women. Social Psychol Personal Sci [epub before print]
About Salimetrics:
Founded in 1998, Salimetrics, LLC supports researchers, the immunodiagnostic industry, and functional testing laboratories around the world with innovative salivary immunoassay products and services. Salimetrics' assay kits and CLIA-certified testing services measure biomarkers related to stress, behavior and development, inflammation, and immune function, including: alpha-amylase, androstenedione, blood contamination, chromogranin A, cortisol, cotinine, C-reactive protein, DHEA, DHEA-S, estradiol, estriol, estrone, IL-1b, IL-6, melatonin, progesterone, 17α-hydroxyprogesterone, secretory IgA, testosterone, and TNF-a. Salimetrics also provides salivary DNA analysis. The company is based in State College, Pennsylvania, with offices in the UK and distributors around the world. For more information, visit Salimetrics on the web at http://www.salimetrics.com.