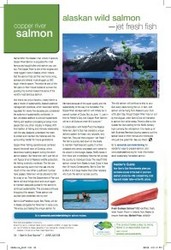 Bentonville, AR (PRWEB) June 11, 2010
Now that we know how good salmon is for us, it seems that everyone is looking for interesting new ways to prepare it. This burger recipe certainly fits the bill. Very easy, with a hint of Asian flavors, this is one great burger.
(Recipe makes 8- 1/4 lb. salmon burgers)
Salmon Burger Ingredients:
Spicy Mayonnaise (1/2 c. mayo blended with 1/2 tsp. wasabi paste or 1 minced jalapeno chile)
2 lbs. skinless, boneless salmon, cut into 1-inch pieces
1/3 c. mayonnaise
1/2 c. chopped green onion
1 clove garlic, minced
2 tsp. grated ginger
1 tsp. sesame oil
1 tsp. soy sauce
1/4 tsp. freshly ground black pepper
1 tsp. kosher salt
lettuce
toasted Sourdough roll or shepherd's bread
Recipe Directions:
1. Prepare Spicy Mayonnaise and refrigerate.
2. Grind salmon pieces in a food processor by pulsing until it is a small chop consistency.
3. In a bowl mix the salmon with mayonnaise, green onion, garlic, ginger, sesame oil, soy sauce and pepper. Let chill for 1 to 2 hours.
4. Form into patties and cook on a hot clean grill (or in a hot, non- stick skillet) about 3 minutes per side until a crispy crust forms. Serve with lettuce leaves and Spicy Mayonnaise.
Want more great salmon recipes? Visit http://www3.samsclub.com/recipe/
About Sam's Club Jet Fresh Salmon
Alaskan Sockeye Salmon is arguably the most famous and sought after wild salmon you can buy. The Copper River is one of the longest and most rugged rivers in Alaska, which means that the salmon that call this river home (king, sockeye and silvers) must struggle up 300 tough miles to spawn.
The extra fat and oil the fish pack on their robust bodies to survive the grueling trip is what makes this some of the world's most delicious salmon.
In collaboration with FedEx® and the Alaskan fishermen,Sam's Club has created a unique delivery system for these very valuable, very fresh fish. They call their program "Jet Fresh." The fish is quickly iced down on the boats to maintain freshness and quality. It is then unloaded onto shore, processed, and rushed to the airport in Anchorage, Alaska. FedEx takes it from there and immediately flies the fish across the country to individual Clubs. The result? Wild salmon moves from Alaska to Sam's Club locations in less than 24 hours. Consequently, Sam's Club fish is often 4 to 5 days fresher than other product that gets shipped by truck.
Due to the specific sustainability guidelines of fishing the Copper River, the salmon delivery schedule varies. Sam's Club expects to begin stocking the special salmon this week, and in the following weeks will make it available to other locations in the U.S. throughout the summer.
###