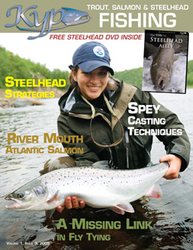 This is not your typical guide trip
Anacortes, WA (PRWEB) September 23, 2009
A new fishing magazine and DVD combo called KYPE, named after the hook-jaw of a male trout, salmon and steelhead, announced today they are offering a rare opportunity to fishermen to partake in one of several film shoots scheduled in Washington, Oregon, Northern California, Michigan, Ohio, Pennsylvania and New York State this fall.
Kype produces a quarterly magazine and DVD available on national news-stands, bookstores and local sport and fly shops across the country. Kype targets steelhead and salmon fishing on west coast rivers and Great Lake tributaries for US and Canada, as well as trophy trout streams scattered across North America. All of Kype staff writers are professional fishing guides--the films compliment that knowledge and experience with an edgy DVD for each and every issue.
In addition to the magazine and DVD, Kype recently launched a new website, TheTugistheDrug.com, a social network for anglers to join and share their fishing knowledge, experience, photos, video and more. The site also supports Hooked On Fishing-Not On Drugs ®, in their efforts toward helping teens say "no" to drugs and, instead, turn their interest to fishing--with the hopes of getting them hooked on this great sport.
Kype is currently searching for two anglers at each fishing location along their upcoming film tour to fish side by side with Publisher and film producer, George Douglas. "This is not your typical guide trip," said Douglas. "This is an opportunity for anglers of all levels to showcase their fishing adventure and help kids at the same time."
The camera crew will capture you and your adventure on film to be used for national distribution. In addition to highlighting this amazing sport and providing viewers with great fishing action, the underlying theme in this series is to capture the typical or not so typical day in an angler's life that often includes the frustrations met on the river, to the evening celebration of the big catch. Similar to reality-TV filming, Kype's film crew documents each aspect of these trips while bringing out unique personalities and the perseverance that drives anglers to their next hook-up.
"Last film, we busted around New York City and Syracuse before heading out to the river and getting into some serious steelheading," Douglas explained.
Kype Magazines' 2009 Fishing Film Tour has limited dates available for bookings. Costs will include lodging, the fishing trips, and two cases of the finished product for you to pass out to friends and family for years to come. For further details regarding this exciting opportunity visit TheTugistheDrug.com or call 360.299.2266 between 9am and 5pm PST.
10% of the proceeds will be donated to Hooked On Fishing-Not On Drugs ® a national fishing organization dedicated to helping teens and contributing to the future of this sport.
Note: access to a free copy of Kype Magazine and DVD is currently available on Kype Magazine's Website..
###