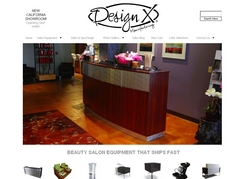 Plus we provide furniture designs from companies that contract with renowned designers of the world.
Long Beach, CA (PRWEB) January 5, 2009
Design X West invites salon owners, designers, and architects to the grand opening of its beauty salon design and equipment showroom from January 31 to February 2, 2009 for drinks, hors d' oeuvres, and a sneak peek of the latest styling chairs, make-up stations, and the globally recognized Design X pedicure spa systems. Located in Long Beach and serving spas and salons throughout Los Angeles and southern California, Design X features over 150 pieces of premier spa and salon furniture and showcases exclusive salon designs.
"Design X has been successful in business for 20 years by providing designer salon furniture and equipment of high end quality made in the USA, Italy, and France. Our design staff consists of the industry's best talent for both the location down to the furniture design," states Robert Rosenberg, Vice President of Design X West. "Plus we provide furniture designs from companies that contract with renowned designers of the world."
With more than 4,200 square-feet of showroom space, Design X can offer its customers the opportunity to see, feel, and visualize their new or renovated spaces. Offering hair salon furniture, such as hair salon chairs with the latest shampoo wash units and a coordinated salon reception desk, Design X aims to recreate the salon experience in its showroom. New and unique arrivals that will be featured in the specialty spa furniture showroom include a ghost desk, which is a salon reception desk constructed of white acrylic panels and illuminated from the bottom.
"The new Design X West showroom will fulfill the need for top design and quality on the west coast in the salon industry," points out Rosenberg.
Beauty salon design services are available through Design X West as well, including professional space planning, textile and fabric selection, budget assessing, color analysis and coordination, custom furniture design, and more. The beauty salon interior design service begins with a personal consultation and provides professional planning and implementation until the design is a reality.
For more information on the grand opening event or to browse products, visit http://www.designxwest.com.
About Design X West:
Design X West, a subsidiary of Design X Manufacturing, Inc., is based in southern California and offers high end spa and salon furniture and equipment and design services to salon owners, designers, and architects. Design X Manufacturing is committed to creating the most unique, innovative, and functional salon furniture and equipment worldwide and is dedicated to providing leading edge salon interior design. Their staff is comprised of commercial designers with experience in furniture design, construction, and space planning. Design X, winner of several salon design competitions, has an inventory of more than 5,000 pieces found in salons nationwide.
###