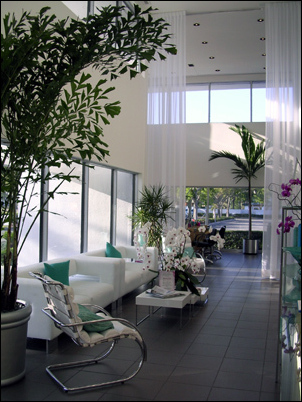 I don't think he has one.
Boca Raton, FL (PRWEB) October 16, 2006
Salon Oasis was hopping last week when Style Network arrived in Boca Raton, Florida to film an episode of its new reality television show "Split Ends", which will air in November.
There are dual starring roles for Jody Jack, hair colorist extraordinaire and co-owner of the posh, luxe Salon Oasis of Boca Raton and Vinnie Tunnero who cuts hair by day at his family- owned SoCal Salon in Verona, a small town in New Jersey, and makes appearances as a local radio personality at dance clubs by night.
The catch -- they had to trade clients, lifestyles and businesses for a week! Jody traded her color bowl in for a pair of clippers -- and her alter-ego Vinnie left his party-going lifestyle and hometown salon with a staff of 10 for a sedate night life and a swanky, cosmopolitan salon with more than 60 employees. Although Jody and Vinnie are both hairdressers and shop owners, the two are truly split ends: polar opposites with the ultimate contrast in styles, personalities, working environments and living habitats.
Neither salon was told a thing by 44 Blue Productions, the company producing "Split Ends", about where their owner would be going. The destinations were kept under wraps until the night before. The goal seemed to be to send the stylists somewhere entirely out of their individual comfort zones. In the preceding days, Jody's imagination took through scenarios where there was no Starbucks. She was sure that she was being sent to some back woods place deep in the heart of the South complete with hillbillies where they run moonshine. Vinnie was convinced he was going to Boston, because he hates the Red Sox. Ok, I guess it's all about what your priorities are.
The salons were as absolutely opposite as can be. Salon Oasis, the elite hot new Boca beauty spot which opened this spring, boasts an almost South Beach snazzed décor with a cascade of white sheers draped from lofty two story ceilings to allow natural light so the colorists have an accurate sense of what a client's hair color will look like when they depart from the salon. The circular staircase adds to the airy feeling of the place with whites on whites throughout and a smattering of green, teal and blue accents. Retail bars with hair products and accessories, make-up and jewelry counters are interspersed as are plush, comfy, luscious pedicure stations with fresh rose petals floating in whirlpool foot baths. Mimosas and champagne are served to clients on silver trays.
No wonder Jody missed home so much. At So Cal Salon---a work in progress-- she found herself discarding towels, trying to keep clients out of the drips of an air conditioner leak, and spackling and repainting the walls herself. She says she tried to manage with grace and charm in an environment to which she was unaccustomed, but as the camera crew video taped from dawn through the night, we'll know what really happened come November.
Jody has an over the top, put together look, is always well manicured and sports perfectly highlighted tresses. She takes care to maintain her youthful appearance with regular Botox® and Restylane® injections, and comes complete with breast implants. Her Boca Raton salon is more than posh. It has a lounge like feel with Chill Out music soft in the background. The staff at Salon Oasis staff is impeccably dressed and incredibly customer service savvy - your wish is their command.
Meet Vinnie, a twenty-nine year old, macho bad boy who likes to party. His home base, Verona, New Jersey is where Livia's (Tony's Mother) house in the Sopranos is filmed. His staff has a kind of gothic, Harley style, who "had lots of tattoos and pierced just about everything as far as I could tell," says Jody. Jeffrey Koket, also a co-owner of Salon Oasis, found himself having to talk with Vinnie, who arrived at work wearing ripped Levis, a T-shirt and flip flops "for not even coming close to our dress code. He didn't pay enough for the jeans to wear those holes," said Jeff, who recalls being attired in Dolce & Gabbana that day.
It got a little hairy back in New Jersey when Jody discovered that Vinnie had taken his styling tools with him. She was left with no scissors, clips. "Nothing," says Jody "not even a comb. I played by the rules. I even left him my favorite balliage brushes." Balliage is an intricate hair color placement technique that is used to enhance the dimension of the color. Jody had not done a men's haircut in 15 years. Vinnie uses a buzzer to do many of his cuts that are short on the sides and tall flat across the top.
One of the So Cal stylists was kind enough to lend her buzzer to Jody, who had never used one before.One of her first buzz cuts was on a guy named Mario. Jody completed the cut on camera, and realized she had left a big hole in the hair on one side of her head. With the staff laughing at her, and then with her, she was determined to fix it, picked up the clippers and put a matching gash on the other side. Jody was grateful for Mario's terrific sense of humor.
"Vinnie had it easy," according to Jody. "I left him every color line." Whether a hairdresser specializes in coloring or cutting (some do both), they start with same basic training. So Vinnie was equipped to do some basic hair color. But when it came to doing an updo on a drag queen named Daisy, Vinnie was totally out of his element.
Jody's take on the scene: At first it really affected her sensibilities. She went to work in a cab that reeked of cigarette smoke, whereas Vinnie, living in her pampered shoes (Not literally. Can you just envision this guy in a pair of Jimmy Choo's?) was transported by limo. Jody stayed at a Best Western, Vinnie got put up at a Hilton.
When she's at home, Jody is what one might call a health nut. She eats healthy, exercises, takes vitamins and does not drink alcohol well. Much to her dismay, Vinnie is a radio personality who MCs and deejays a couple of nights a week at a Red Cheetah Dance Club in Montclair, NJ. Jody consumed a few shots and went on the air (103.5 KTU) for about a ½ hour to be a good sport. Instead of the booze helping her to garner the courage to emulate Vinnie's dancing energetic performance on stage, Jody landed (not too gingerly) on her tush, as she went to step off the stage after the show.
Although Jody and Vinnie have not met, they talked with each other via phone on the air. A major point of conversation was about him being scheduled to go to her doctor appointment the next day. He was convinced that she had him seeing her gynecologist. Much to his surprise, he ended up having a shot of Botox right between the eyes! The two hope to meet each other soon and would like to get together for a screening of "Split Ends" come November.
About Vinnie's staff? "Nice," says Jody, "I would hire them, but would try to redo them a bit." About Vinnie's business plan? "I don't think he has one." She says he always charges his female clients. But with most of his male clients he often charges only ½ price and often barters for cigarettes and to get his Harley fixed. And he does police for free. Jody prides herself on a very structured business environment where client service comes first.
The final act for Jody and Vinnie was to leave a bit of themselves behind at the salon who had hosted them. Style Network gave them $500 to use to change one thing. Jody called a plumber to fix the leak in the air conditioning system at SoCal Salon. Vinnie said there was nothing to do, Salon Oasis was so beautiful. So he asked for the money to be donated to the local Boca Raton police and firemen. Salon Oasis has set up a fund and is asking their clients to support this too.
"Split Ends" premieres on Style Network, Friday, November 17 at 9:00 PM/ET. Jody Jack and Vinnie Tunnero's swap is tentatively scheduled to air on Saturday, November 25 at 6:00 PM/ET.
Salon Oasis of Boca Raton was opened in March 2006 by co-owners Jody Jack, Jeffrey Koket and Michael Smith. The three specialize in hair color and have been hairstylists in the Boca Raton area for more than forty years collectively. Jody Jack is originally from New York and has worked in top salons in New York City including Mélange. Michael Smith was born in the UK, and owned a hair salon in South Africa. Jeffrey Koket, who is from Los Angeles, began his career in Beverly Hills where he worked in the film industry.
Jody, Jeffrey and Michael and their international hair design team make it their mission to provide clients with an escape from the ordinary where they can experience the extraordinary as they color coifs, trim tresses and pamper and indulge in a way that only they can. Salon Oasis of Boca Raton also offers manicures, pedicures, corrective color, Japanese hair straightening, make-up artistry, facials, microdermabrasion, massage, eye brow design and eye lash extensions.
###