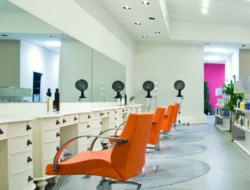 San Francisco, CA (Vocus/PRWEB) February 03, 2011
Looking for a high-end, up and coming salon to work for? Salon Yuni, a fast-growing Pacific Heights hair salon, is expanding and hiring a stylist to join its team of top San Francisco Bay Area hair stylists. Salon Yuni is offering the opportunity to build and maintain one's clientele in one of the most upscale neighborhoods in San Francisco. Dedication and a positive attitude are a must.
"I've had my haircut by John for years," says Salon Yuni client Barrie S. "I've followed him to Salon Yuni and he now does my color as well. It is always perfect, and I get tons of complements. He's been cutting hair for over 20 years, and was trained at Bumble & Bumble in NYC where I used to get my haircut before moving to SF…He is from New York and reminds me of my time there -- he's really funny, so sitting in the chair for a few hours is never boring. Highly recommended!"
The San Francisco hair salon is offering commission-based compensation for joining their team of hair stylists at Salon Yuni. The space is modern and clean, with a spacious interior of 1,200 square feet. The space is equipped with all-new, state-of-the-art appliances, including eight 60-inch station and three wash stations. Located in the busy Fillmore shopping and dining district, Pacific Height's Salon Yuni is right by Pizzeria Delfina, Mollie Stones, Elite Cafe Inc., and more.
Parking is not an issue as there is a parking lot next door that accepts coins and credit cards, making it convenient for both stylists and clients to find a space. Salon Yuni's large, open windows provide both clear visibility from the street and natural light for clearer vision when working. Finally, the décor is contemporary, clean, with relaxing, oriental touches.
Salon Yuni's owner and hair stylist Yuni Cho, has styled hair for over ten years and has assembled some of the top San Francisco hair stylists for her salon. The clean and contemporary Pacific Heights beauty salon is equipped with comfortable chairs and state-of-the-art equipment to ensure a luxury experience. In addition to haircuts, Salon Yuni's other services include hair color and highlights and keratin complex smoothing therapy.
ABOUT SALON YUNI
Salon Yuni is a San Francisco hair salon that specializes in haircuts, hair styling, hair color and highlights and keratin complex smoothing therapy.
For more information about the job opening or any of Salon Yuni's services, or to set an appointment, call (415) 503-9703, check out their website at http://www.salonyunisf.com. Visit their salon at 2434 California Street in San Francisco.
# # #