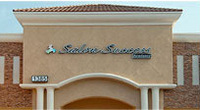 Upland, CA (PRWEB) May 5, 2008
Southern California beauty school, Salon Success Academies (SSA), is now offering evening classes for the Esthetics Program. The new skin care program, which began on March 18, 2008, runs from 6 p.m. to 9 p.m. Monday through Friday at the SSA Upland campus.
This evening alternative, the first for SSA, is designed to help working professionals attend courses part time. Students can expect to complete their training within ten months. SSA also has a full-time esthetics program that can be completed in four months and is offered at the Uplands and Redlands campuses.
Both full- and part-time skin care programs require 600 clock hours for licensure as an Esthetician. The curriculum guides students through many types of facials, hair removal (waxing / tweezing), and of course make-up.
Consistent with the program start dates of the full-time program, esthetics evening programs for the remainder of 2008 will be offered May 13, June 3, July 15, August 19, September 23, October 21, November 11 and December 9 at the Upland campus.
ABOUT SALON SUCCESS ACADEMIES
Salon Success Academies have five campuses located in California's Inland Empires: Redlands, Fontana, Upland, San Bernardino, and Corona. SSA's philosophy is to treat each student as a part of the family, providing them with every opportunity to complete their studies at the lowest cost possible. SSA combines hands-on practical application with cosmetology, skin care, or nail technology concepts. The school partners with the beauty industry to enable students to graduate with technical excellence in their profession as well as strong customer service skills.
http://www.gotobeautyschool.com
# # #