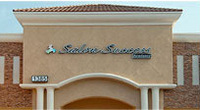 The students were very excited about returning to the campus and thrilled with the brand new equipment and our beautiful facility
San Bernardino, CA (PRWEB) October 22, 2008
Just a month ago, on September 18, 2008 Salon Success Academies, an Inland Empire beauty school, opened its completely refurbished campus in San Bernardino, CA. The interior of the 4,000 square foot building was totally gutted and completely renovated with new equipment and a more user-friendly configuration of classrooms and hands-on beauty training areas.
Says Education Director Susan Turner, "The new configuration of classrooms and training areas are separate and self-contained, allowing for a more focused learning experience whether instructor-led basic training or hands-on clinic training working with patrons."
The newly designed 17-station salon was created to look like a typical, upscale salon with a ceramic tile floor and state-of-the art chairs and dryers. There's also a separate area within the salon for chemicals and a styling bar.
There are two new classroom areas where beginning beauty students learn the basics of Cosmetology. The first 240 hours of the 1,600 hour ( 9.5 months) Cosmetology program are spent in the classroom learning theory, State Board procedures and a three-day course focusing on life skills, such as organization, time management, communications and the importance of building and maintaining a client base. The program was developed by Pivot Point International (PPI), a leading provider of education products, services and curriculum to member Cosmetology schools.
After basic training, Cosmetology students are ready to move beyond theory to practice. Hours 240 thru 800 are spent on the clinic floor working on patrons. At 800 hours, students then spend 160 hours on advanced techniques in hair cutting and coloring. Students are then ready for the 'real world' with an externship arranged by Salon Success with local beauty salons. Finally at 1,200 hours, students spend the rest of the program in a 'mock' Board class practicing for the State Boards.
Finally, the refurbished San Bernardino campus offers students a renovated student break room, a pedicure zone and an area for facials away from the classrooms and clinic to respect the patron's privacy.
The renovation, to both the interior and exterior of the building took just 90 days. Current students at the campus continued their program at the school's Fontana and Redlands campuses. "The students were very excited about returning to the campus and thrilled with the brand new equipment and our beautiful facility," says Susan Turner.
About Salon Success Academies
Salon Success Academies (SSA) has five campuses located in California's Inland Empires: Redlands, Fontana, Upland, San Bernardino and Corona. SSA's philosophy is to treat each student as a part of the family, providing them with every opportunity to complete their studies at the lowest cost possible. SSA combines hands-on practical application with cosmetology, skin care, or nail technology concepts. The school partners with the beauty industry to enable students to graduate with technical excellence in their profession as well as strong customer service skills. http://www.gotobeautyschool.com
# # #